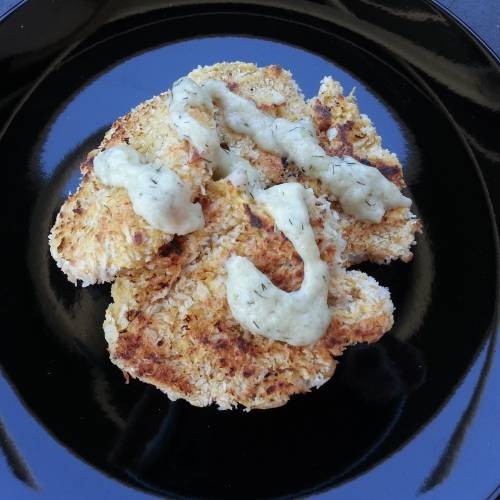 If a Wienerschnitzel comes from Wien (Vienna) then a Calischnitzel must be from California! Schnitzel simply refers to a peace of meat breaded and fried. Here's our version – the Calischnitzel!
Ingredients
Patties:
2 cups garbanzo flour
1 teaspoon salt
½ teaspoon garlic powder
¼ teaspoon onion powder
4 teaspoons lemon juice
1 cup hot water
1 ½ cups bread crumbs
Gravy:
2 tablespoons butter or margarine
2 tablespoons flour
1 cup almond or soy milk
¼ teaspoon salt
½ teaspoon dried dill
Instructions
To make patties:
Mix garbanzo flour, salt, garlic powder, and onion powder.
Add hot water and lemon juice. Mix well.
Put bread crumbs into a cereal bowl. Take a heaping tablespoon of batter and flatten it slightly into a patty. Dip each side into bread crumbs.
Fry in a non-stick pan on medium heat until brown.
To make gravy:
Melt butter or margarine in saucepan over medium-low heat.
Add flour and stir well with a whisk.
Add almond or soy milk while continuing to whisk.
Add salt.
Bring heat to medium and continue to whisk until the gravy boils and thickens.
Remove from heat and stir in dried dill.
Ready in about 30 minutes
Makes About 15 patties