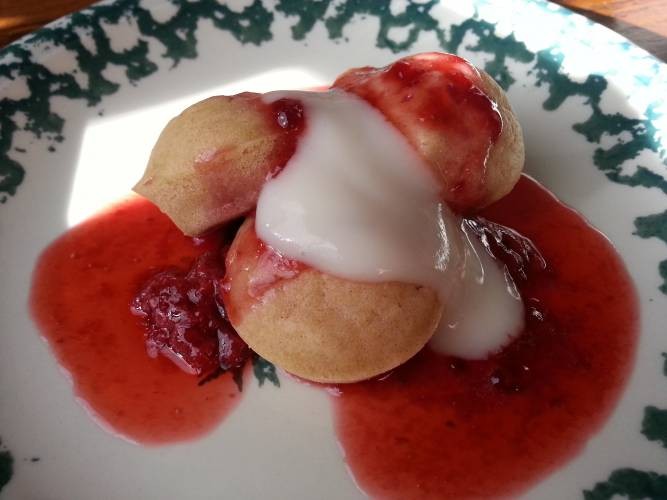 I wanted something special for my Mum's birthday breakfast, not the usual. After some internet searching this idea came up. With some healthy touches a breakfast was made – fit for a queen!
Ingredients
Pancakes:
¾ cup unbleached flour
¾ cup whole wheat flour
1 tablespoon baking powder
½ teaspoon salt
1 ¼ cup soy or almond milk
2 tablespoons olive oil
Fruit sauce:
1 ½ cups frozen strawberries
2 tablespoons grape jelly
coconut yogurt, vanilla flavor (optional topping)
Instructions
Preheat oven to 400°F. Place two muffin tin pans in the oven to preheat.
In a large bowl, add dry ingredients for pancakes and mix.
Add milk and oil and stir until just blended (the batter will still appear lumpy, but that is good).
After the muffin tins have been in the oven for at least 5 minutes, pull them out of the oven and spray them with a non-stick spray. Fill each muffin space with batter until ½ full. Leave any extra spaces empty.
Bake in the oven for 10 minutes or until lightly browned. Remove the pancake puffs from the muffin tin.
While the pancakes are baking, prepare the berry sauce. Place frozen strawberries and grape jelly into a microwave safe bowl and heat until warm. Mash berries with a fork and mix well. Serve over the top of the pancake puffs with optional coconut yogurt.
Ready in about 25 minutes
Makes About 18 large pancake puffs or 36 mini-puffs