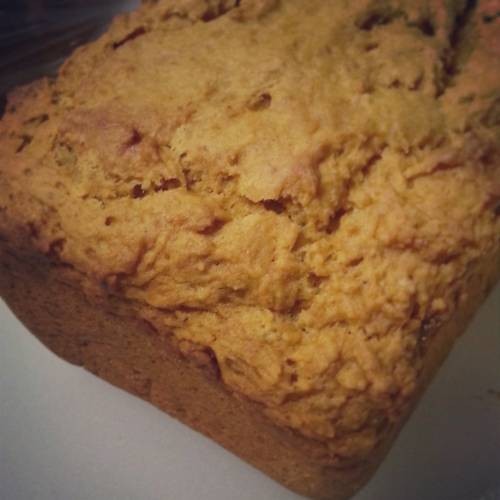 Fall is just a good excuse to eat pumpkin bread. Besides the fact that pumpkin is really good for you, and pumpkin bread is a favorite for Thanksgiving dinner!
Ingredients
1 cup brown sugar
1 cup canned pumpkin
⅓ cup extra virgin olive oil
1 teaspoon vanilla
1 ½ tablespoons water
1 ½ cups all-purpose flour
2 teaspoons baking powder
½ teaspoon ground cinnamon
¼ teaspoon salt
¼ teaspoon ground cloves
dash fruit fresh (optional)
Instructions
Preheat oven to 350°.
In a large bowl, blend sugar, pumpkin, oil, vanilla, and water.
Add flour, baking powder, cinnamon, salt, ground cloves, and fruit fresh (optional) to bowl with wet ingredients. Blend.
Spray a bread pan with non-stick spray. Pour the mixture into the pan and bake for 50 minutes or until cooked through (place a knife into the center of the bread and if it comes out clean, it is cooked through, if not bake for 5 more minutes and test again).
Ready in about 1 hour
Makes 1 loaf