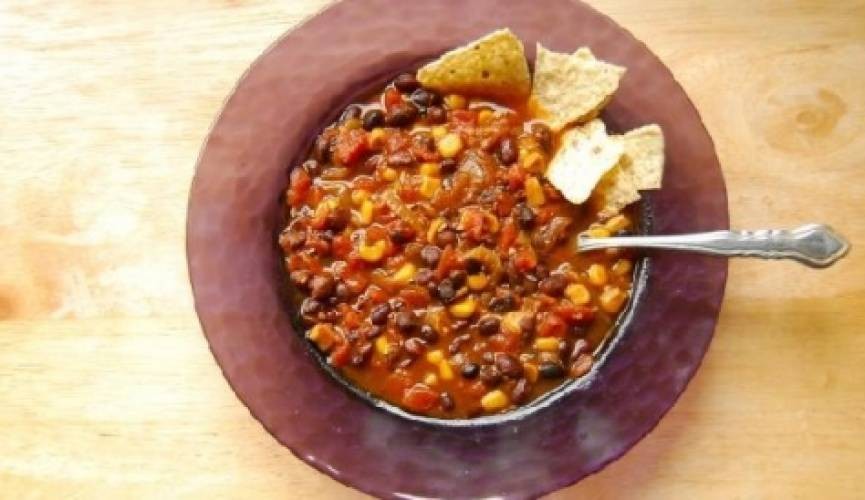 This chili recipe spotlights the cutest legume of them all: the chickpea.
Ingredients
2 cups vegetable broth
1 (15-ounce) can fire-roasted tomatoes, diced
4 ounces green chiles, diced
1 large onion, diced
1 green bell pepper, seeded and diced
¼ teaspoon paprika
2 teaspoons cumin
1 tablespoon chili powder
1 tablespoon pure maple syrup
1 tablespoon tomato paste
2 cups fresh or frozen corn
1 (15-ounce) can chickpeas, drained and rinsed
1 (15-ounce) can cannellini or black beans, drained and rinsed
1 (8-ounce) can tomato sauce
cayenne pepper, to taste
salt, to taste
Instructions
In a large pot, combine broth, tomatoes, chiles, onion, bell pepper, paprika, cumin, and chili powder. Cover and bring to a boil, then reduce to low and simmer for an hour or until most of the liquid has cooked off. The onions should be translucent and the green peppers tender. There should still be a thin layer of liquid coating your pan.
Add the tomato paste, pure maple syrup, and frozen corn. Reduce the heat to the lowest possible setting and heat thoroughly.
Once corn is warm, add beans and tomato sauce, plus salt and cayenne to taste. Continue to heat over low heat until beans are warm, about 5 minutes. Serve with a garnish or cilantro, vegan sour cream, or whatever else you wish!
Ready in about 1 hour 30 minutes
Makes 4 servings