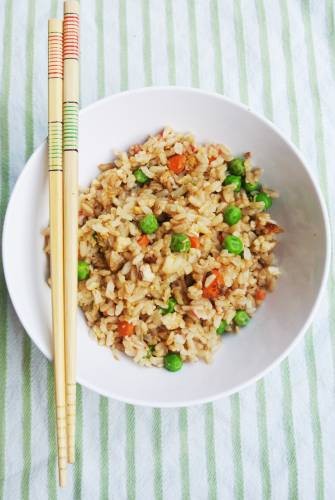 Flavorful and studded with colorful vegetables, this rice dish would easily complement any number of entrees.
Ingredients
1 cup onion, diced (or ¼ cup dried onion flakes)
½ teaspoon salt
4 cups brown rice, cooked
1 red bell pepper, diced
1 large carrot, shredded
1 cup fresh or frozen peas
½ tablespoon Homemade Curry Powder
10 mushrooms, sliced (optional)
Instructions
Trepare the brown rice according to the package's instructions.
Place the diced onion in a large nonstick skillet over medium-high heat. Add ¼ cup water and salt. Simmer for 5 minutes.
Add the remaining ingredients. Toss together and heat to serving temperature.
Ready in about 20 minutes
Makes 6-8 side servings / 4-6 main servings