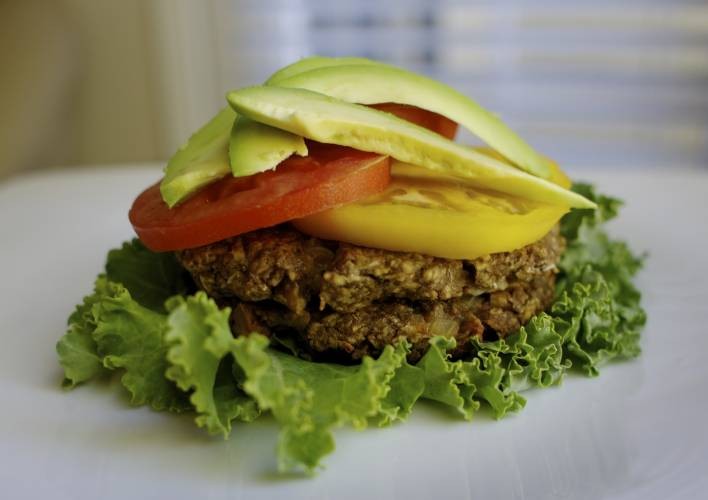 Chewy, hearty, and with a seriously "meaty" flavor, this might be one of the best vegetarian burgers out there.
Ingredients
3 cups water
¼ cup Bragg's Liquid Aminos (or 2 tablespoons soy sauce)
1 tablespoon McCay's Beef Seasoning
1 teaspoon Italian seasoning
1 teaspoon garlic powder
½ teaspoon onion powder
½ teaspoon salt
3 tablespoons nutritional yeast flakes
¼ cup dried onion flakes (or 1 diced onion)
3 cups quick oats
½ cup walnuts or pecans, ground
Instructions
Preheat oven to 375°F. Place water all ingredients except oats in a blender. Cover and turn on for 2-3 seconds, just enough for all to go through the blades and get chopped fine, but not pureed.
Place mixture in a saucepan and simmer together for 3 minutes. Remove from heat and stir in quick oats and nuts. Allow to cool.
Shape into burger-sized patties— use a half-cup ice-cream scoop if available— and place on a nonstick or Pam-sprayed cookie sheet.
Press down with the palm of your hand to make each patty ¼" thick. Bake at 375°F until browned on both sides, or brown on a nonstick griddle.
Variation 1: Try adding a tablespoon of molasses and a tablespoon of tomato puree for a richer flavor.
Variation 2: Make a chili burger by replacing the Italian seasoning with 1 teaspoon cumin and 1 tablespoon chili powder, or 1⁄2 package of mild taco seasoning.
Ready in about about 30 minutes
Makes 6-8 burgers / 6-8 servings