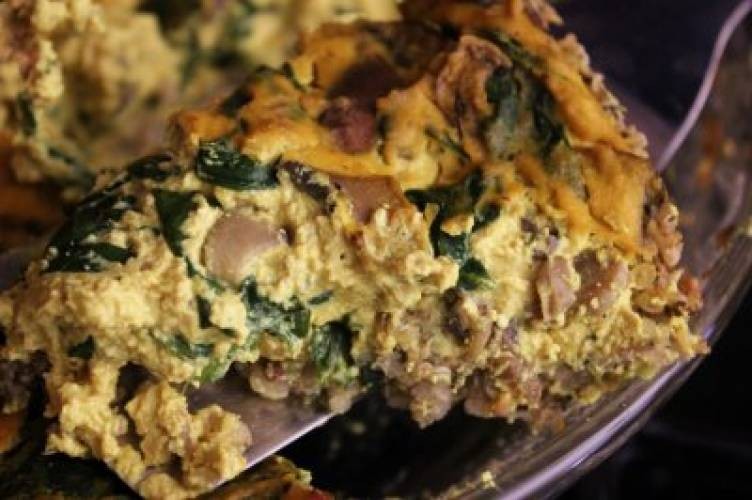 For those of you who aren't quite used to the taste of tofu on its own just yet, this recipe toes the line extremely well between egg and tofu. A little extra red pepper and mushroom doesn't hurt.
Ingredients
1 pound firm tofu, drained
1 teaspoon garlic powder
1 teaspoon onion powder
½ teaspoon turmeric
½ teaspoon salt
¼ cup nutritional yeast flakes
¼ cup cornstarch
1 tablespoon Dijon mustard
1 tablespoon lemon juice (optional)
10 cremini mushrooms, sliced
1 teaspoon thyme
½ teaspoon dried basil
¼ teaspoon red pepper flakes
10 ounces spinach, frozen
Instructions
Preheat oven to 350°F. Lightly grease a shallow 9" pie pan and set aside.
Combine tofu through lemon in a blender and puree until smooth, stopping to scrape the sides as necessary. Continue to blend until the mixture is an even yellow and resembles a thick batter. Set batter aside.
Line a skillet with ¼ cup of water. Add mushrooms and saute over medium-high heat. Once the mushrooms start to get soft, add thyme, basil and red pepper flakes and continue to cook until mushrooms are soft and the water has evaporated.
Meanwhile, prepare frozen spinach according to packaging instructions, draining cooked spinach and pressing out any excess water.
In a large bowl, mix tofu mixture with mushrooms and spinach. Once combined evenly, poor into prepared pie dish. Bake 30-45 minutes at 350°F, or until thoroughly warm and slighty crusty at theh edges. Allow to cool for 15-20 minutes before slicing.
The quiche should still be warm for serving but not piping hot.
Ready in about 1 hour 15 minutes
Makes 8 servings