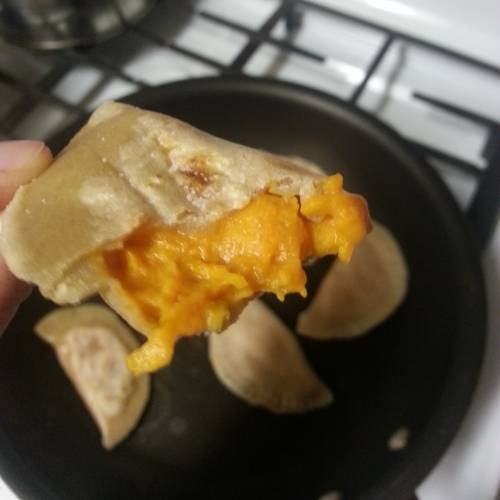 One of my favorite european foods gets a flavorful twist with this healthy variation.
Ingredients
1 large sweet potato
water
1 tablespoon all-purpose flour
¼ teaspoon garlic powder
¼ teaspoon salt
½ teaspoon rosemary
1 cup whole wheat flour
1 cup all-purpose flour (plus a little extra for rolling the dough)
½ cup water
3 teaspoons extra virgin olive oil
Instructions
Peel and dice the sweet potato. Place in a saucepan and cover with water just to the top of the potatoes.
Bring to a boil and simmer until the potatoes are soft when pricked with a fork (about 20 minutes).
Drain the excess water and mash the sweet potatoes. Add flour (1 tablespoon), garlic powder, salt, and rosemary and mix well.
In the meantime, mix the flour, water, and olive oil in a medium bowl and knead until it is well mixed and pliable.
Roll the dough out onto a large, floured cutting board, until it is about ⅛ inch thick. Using a biscuit cutter, cut out as many circles as you can. Spoon out about 1 teaspoon of sweet potato filling into the middle of each circle. Fold in half, trying to avoid getting the filling on the edges. Once folded in half, seal the open edges by pressing down hard with the tip of a fork. Repeat the process until all of the dough and filling are used.
Fill a medium sized saucepan about ¾ full with water. Bring to a boil and place about 5-7 pierogies in the water. Heat a large, non-stick, fry pan over medium heat. Once the pierogies have floated to the top of the water, place them in the large fry pan using tongs or something that drains the water away from the pierogi. Fry the pierogi on each side until crispy and browned.
Serve with a little salt sprinkled on top or with a side of vegan sour cream.
Warning: Only boil as many pierogies as can fit in your frying pan at one time. If you leave the pierogies in boiling water while you wait for free space in the frying pan it will cause the pierogies to fall apart in the water.
Ready in about 1 hour 15 minutes
Makes About two dozen pierogies