There are 7.3 million vegetarians who will be celebrating Thanksgiving this year. Some of them tend to make an exception on the holidays, and eat turkey—it's only once or twice a year right? Well, it's time to stop making excuses and start making your own vegan turkey! That's something to celebrate!
Here is a special recipe video to enjoy this holiday season. This is SO much better than the ones you can buy in stores, plus everyone will be impressed at your amazing cooking skills once they taste it. Even non-vegans and vegetarians will love it. So go ahead, impress those taste buds, and make your own vegan turkey this holiday. You can serve this roast alongside our holiday stuffing and gravy!
Leftovers? It makes the perfect sandwich meat when you slice it thin. Homemade is always best made. Blessings!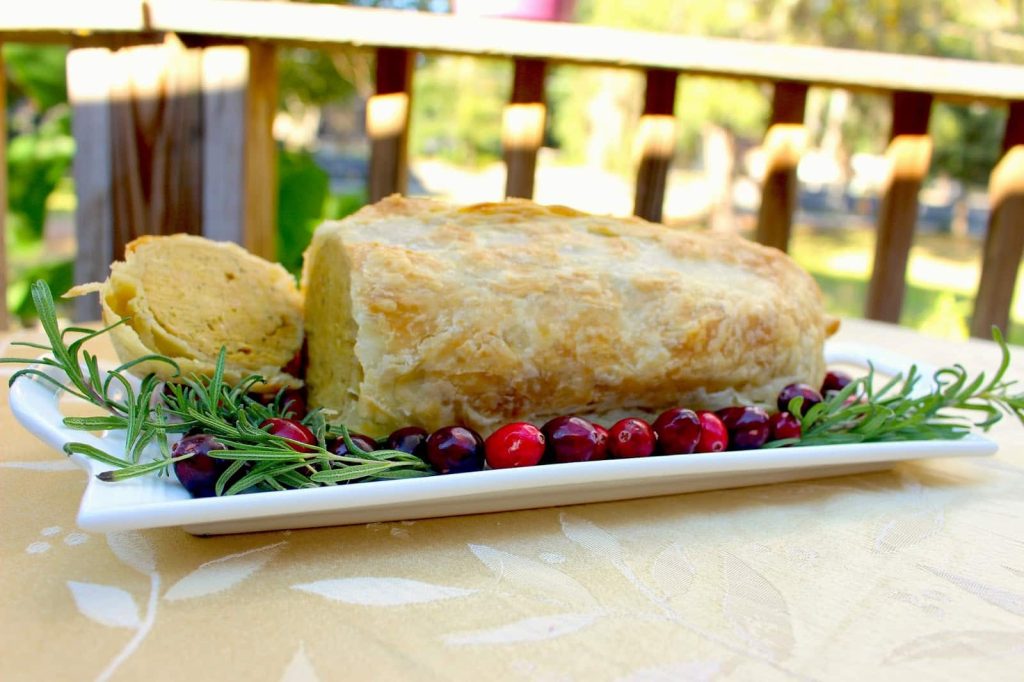 Ingredients
2½ cups vital gluten flour
½ cup nutritional yeast
1 teaspoon thyme
½ teaspoon rubbed sage
1 teaspoon onion powder
1 teaspoon salt
2 teaspoon McKay's Chick'n seasoning (optional)
2 cups vegetable broth
¼ cup olive oil
1 tablespoon soy sauce
vegan Puff Pastry (optional)
Instructions
In a bowl, combine all of the dry ingredients (except for the Puff Pastry) and mix them together.
Add the wet ingredients to a separate bowl and whisk them together. Then pour the mixture over the dry ingredients.
Stir the wet and dry ingredients together to form dough.
Form the dough into a loaf shape with your hands and wrap it in cheesecloth. Tie off the ends of the cheesecloth with string to keep the loaf in place.
Put the loaf into boiling water and cook it on medium heat for 1 hour.
After the loaf has cooked you can remove the cheesecloth and serve it as it is. However, the roast will be more delicious if you add the Puff Pastry "skin".
Roll out a sheet of vegan Puff Pastry and wrap it around your cooked roast. Form the dough with your hands so it seals around the loaf.
Add a little olive oil to the bottom of your pan so the loaf does not stick to the bottom. Add the loaf to the pan and brush the top of the loaf with olive oil.
Bake the loaf in the oven at 400 degrees for 25 minutes. Remove and serve your delicious vegan turkey!