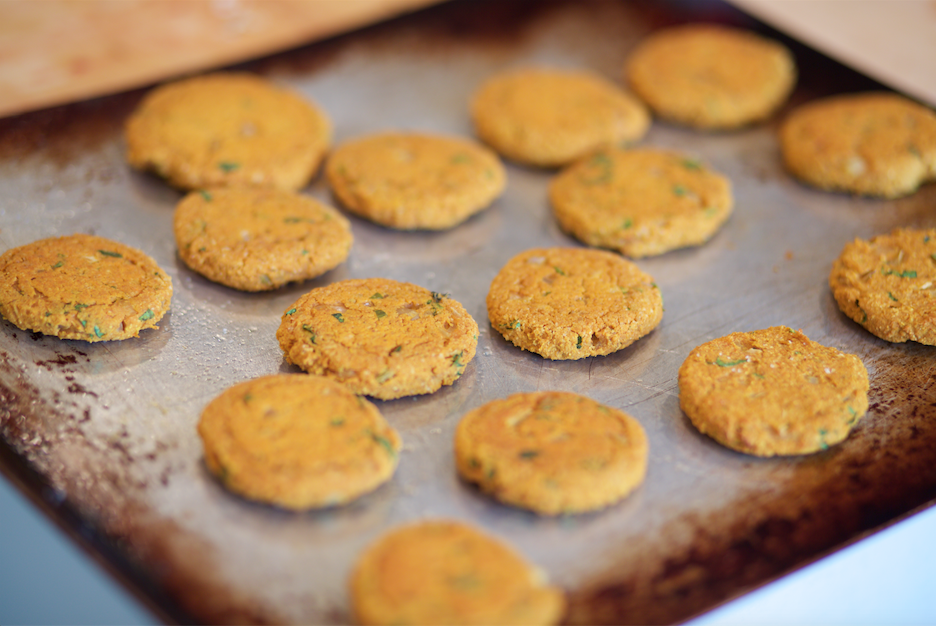 The soft sweet potato blends with the stiffer garbanzo bean to create a firm, yet tender burger, perfect in a bun or as an entree.
Recipe tips:  Freeze leftover patties and have them on hand for a quick-fix lunch.  These patties are also great for chopping over salads.
Ingredients
1 medium sweet potato
1 (15.5 oz.) can garbanzo beans, rinsed and drained
3 tablespoons whole wheat flour
1 tablespoon tahini or nut butter
½ cup quick oats
1 teaspoon pure maple syrup
½ teaspoon garlic powder
1 small onion, minced
1 teaspoon salt (or to taste)
¼ teaspoon cayenne
Instructions
Poke holes in a sweet potato and microwave on high for 7-8 minutes.
Remove skin and place sweet potato in a large bowl. Add remaining ingredients and use potato masher or fork to mash ingredients.
Measure ¼ cup of batter and form into patties.
Place on a lightly sprayed baking sheet and bake at 375°F for 30 minutes, flipping the patties halfway through. Burgers should be lightly brown.
Ready in about 45 minutes
Makes 10 servings