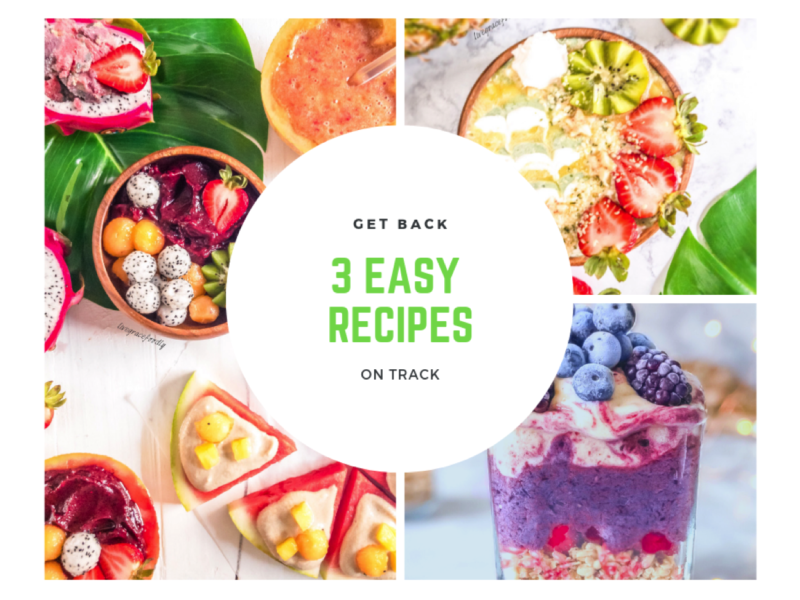 What could be better than bowls of thick and creamy bases loaded with fruits and other healthy toppings? We're hoping these three easy and delicious recipes can inspire you to get back on track with your health-related New Year's resolutions.
These recipes are free from refined sugars and they're designed to curb your cravings, as well as give you the energy you need. You could enjoy these as part of your breakfast, or as a guilt-free dessert. You could even enjoy them before or after a workout. They're not as sweet as typical desserts, but they're quite sweet for having no refined sugar, to the point that you may possibly wonder whether you should feel guilty or not.
Pro tip: You should keep a supply of packaged frozen fruits in your freezer ready for blending. These are quick to make and can be made and packed to go on your way to work or the gym.
Berry Purple
Ingredients:
Granola or a cereal mix of your choice
Frozen blackberries
Frozen bananas
Maple syrup, agave, or honey to taste (optional)
1-4 tsp pure vanilla extract
Unsweetened almond milk for blending
Directions:
Peel ripe bananas and slice it in half. Place it in a sandwich bag and freeze overnight. (Very ripe bananas are the sweetest.)
Blend the frozen blackberries, vanilla extract, and (optional) natural sweetener of choice until smooth. Add almond milk a little at a time, to help it blend smoothly.
Repeat the same process for the frozen bananas and omit the sweetener.
To assemble, add granola on the bottom of the cup, followed by a layer of fresh blueberries and raspberries. Add generous dollops of the blackberry cream, and then layer the banana cream on top. Top with more blueberries and raspberries. Enjoy!
Why this helps:
Bananas are high in fiber, easy to digest, a good source of potassium, and good for the heart. Fiber is important for regular bowel habits and is wonderful for the digestive system. If you're looking to lose weight, bananas are perfect for just that. Berries are high in antioxidants, help lower cholesterol levels and help with achieving clearer skin.
Tropical Dream
Ingredients:
Chilled coconut cream
Frozen or room temp bananas
Frozen mangos & pineapples
1 tsp spirulina powder [Read further for health benefits]
Directions:
Blend all the ingredients until smooth. For toppings, I used strawberries, kiwi, hemp seeds, and bananas. If needed, add 1-2 tsp of honey or agave for natural sweetening.
Why this helps:
Spirulina is high in protein, antioxidants, B-vitamins, iron, essential amino acids, and vitamins C, D, E. Antioxidants help protect the body against cancer, amino acids help improve the mood, helps with losing weight, and building and maintaining muscle tissue. Vitamins nourish the body and are necessary for good bone health. Spirulina also helps with removing heavy toxic metals from the body, and serotonin production, which helps reduce symptoms of depression.
Refreshing Sugar Kiss Melon Juice
Ingredients
Directions:
Blend both fruits until smooth.
Add water to achieve your preferred consistency.
Why this helps:
Strawberries help with weight management, boosts the immune system, and regulate blood sugar. Sugar kiss melons are a sweeter and creamy form of cantaloupe. They are rich in potassium and help replenish electrolytes, rendering it a perfect post-workout drink. It is also rich in vitamin C, which helps maintain strong bones and skin. Vitamin C also aids in the healing of wounds.
Berry Bowl
(Pictured in Sugar Kiss Melon Juice recipe)
Ingredients::
Frozen berries
Coconut nectar (optional)
Directions:
Blend all ingredients until creamy. (I topped mine with dragon fruit, strawberries, and sugar kiss melon.)
Why this helps:
Studies show that the betalains and carotenoids in dragon fruit are linked to the reduction of cancer and heart disease. It is also high in vitamin C. It promotes a healthy gut, and may help those deficient in iron.
Watermelon Fruit Pizza 
(Pictured in Sugar Kiss Melon Juice recipe)
Ingredients:
Non-dairy yogurt of choice. (I like to use soy, almond, or coconut.)
Watermelon slices
Fruit toppings of choice
Directions:
Slice the watermelon into pizza slice shapes.
Spread the non-dairy yogurt on the slices.
Top with fruits of choice.
Why this helps:
Watermelons hydrate the body and lower inflammation and stress. It helps relieve muscle soreness. This is another good post-workout fruit to eat. It gives a quicker recovery time after a workout. It's a delicious way to rehydrate! It can even reduce asthma attacks since there is a connection between a lack of vitamin C and asthmatic symptoms.