Picnic blankets, pillows, barbecue, popcorn balls, family gathered around in my grandpa's yard so we could watch the fireworks go off. This is my favorite childhood memory of the 4th of July. Each year the family would gather and celebrate Independence Day together. There's just something about that holiday that makes one proud to be in this country. What is your favorite memory of Independence Day?
It's not about the fireworks; it's not about the barbecues, or the delicious desserts. It's about what it all represents and the reason we celebrate. The delightfully moist cake is a great way to celebrate though! Here are some fun facts about Independence Day:
Did you know the declaration of independence was actually voted upon by the Continental Congress on July 2? It wasn't until July 4th that the Declaration of Independence was printed up and signed. Also the liberty bell didn't ring until July 8 when the declaration was read aloud.
Canons were used to celebrate Independence Day until around 1890 when they were no longer used as much. That's when fireworks started to come about.
We have many traditions when it comes to how we celebrate Independence Day, but let's not forget why we celebrate it today. It was a day we the United States became independent of Great Britain. With our independence we also gained the freedom to believe and worship how our consciences dictate.
Let's never forget. But let's celebrate with this delectable dessert! Not only is it beautiful, but it is easy to make!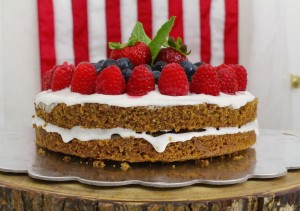 Ingredients
| Quantity | Unit | Name | Link | Alternatives |
| --- | --- | --- | --- | --- |
| 1½ | cups | flour | | |
| 1 | cup | sugar | | |
| 1 | teaspoon | baking soda | | |
| ½ | teaspoon | salt | | |
| ¾ | cup | soymilk, plain and unsweetened | | |
| ½ | cup | canola oil | | |
| 2 | tablespoons | vinegar, white or apple cider | | |
| 1 | tablespoon | vanilla extract | | |
| 3 | cups | powdered sugar | | |
| ½ | cup | canned coconut milk, (regular and chilled in the fridge) | | |
| ½ | teaspoon | vanilla extract | | |
Instructions
Pre-heat oven to 350 degrees.
Mix the flour, sugar, baking soda, and salt together in one bowl. Sifting the flour will make the cake fluffier, but this is an optional step.
Now, combine soymilk, oil, vinegar, and 1 tablespoon vanilla extract in a second bowl. Then add them to the dry ingredients.
Mix everything together and pour into a cake pan. To help the cake come out easily after baking, add a piece of parchment paper to the bottom of the pan before adding the cake mix.
Bake the cake in the oven at 350 for 25 minutes. Poke the cake with a toothpick; if it comes out without any batter sticking to it, the cake is done.
While the cake is baking, prepare the frosting by mixing the powdered sugar, coconut milk, and vanilla together.
When the cake is done baking, carefully cut it in half to form two layers. Frost and add fruit to the bottom layer, then put the top back on.
Now frost the top layer and decorate it with the fruit of your choice. Blueberries and strawberries are perfect for a red, white and blue feel, but other fruits will also work great.
Prep Time
:
Serving Size
: 8-12 slices