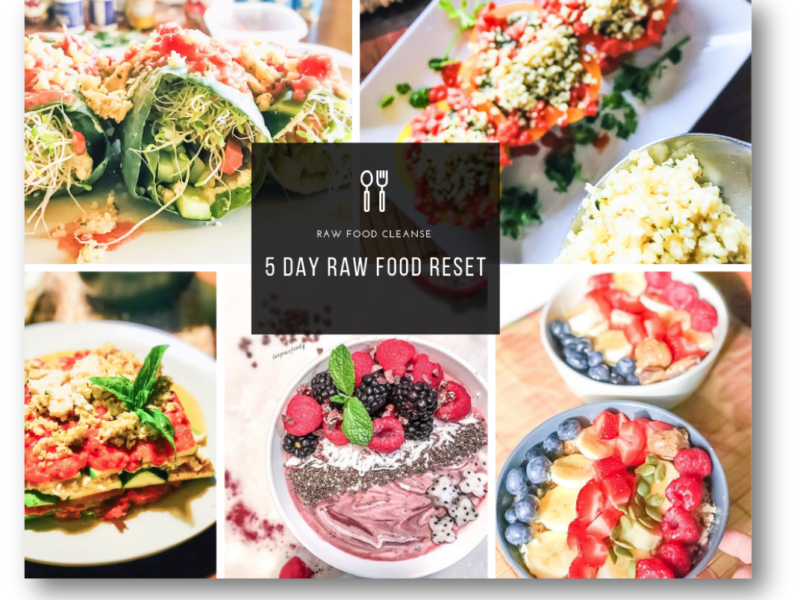 A raw food reset? Don't worry, I'm not talking about a week of dry salads and endless smoothies. Keep reading through this article and you'll quickly discover that you can eat full meals—raw! The benefits are note-worthy: you'll lose weight, feel more energized, and reset your health overall. The best part? You can actually enjoy your food while doing this! Eating raw doesn't equate to boring-ness
I've been on a plant-based diet for ten years and I admittedly did not find the raw food diet appealing! (Mostly because I'm afraid to lose any weight) However, I was asked by my friend to help her go on a week-long raw food fast, and help prepare the foods in her home. So, I joined her…and was floored. The food was healthily addicting and very satisfying! I felt even more energized, and to my surprise, it kept me full until my next meal.
The big win was that my friend was able to experience a restart on her health as well as shed some significant weight off! It takes as little as a couple of days to a week to begin noticing results, but just imagine what a month of eating raw could do to your body. Feeling motivated yet?
The food was fun to prepare, and quite a delight because, well, we didn't have to cook it! I was surprised to realize that I enjoyed this food as much as I enjoy cooked food. It also seemed too good to be true, but luckily there was no reason to feel guilty eating these foods.
So let's talk about this 5-day raw food reset that you're about to embark on (right…?). Some of the meal options may seem like a daunting task but you'll soon find yourself having fun with it! If you're currently taking medications, please consult with your doctor before making changes. These recipes contain nuts so if you have a nut allergy, please comment down below and I'll provide alternatives to the recipes.
Cheers to a vibrant you!
Your 5-Day Raw Food Reset
Day 1
Breakfast prep: Freeze the banana and berries the night before.
Lunch prep: Soak the cashews and macadamia nuts the night before.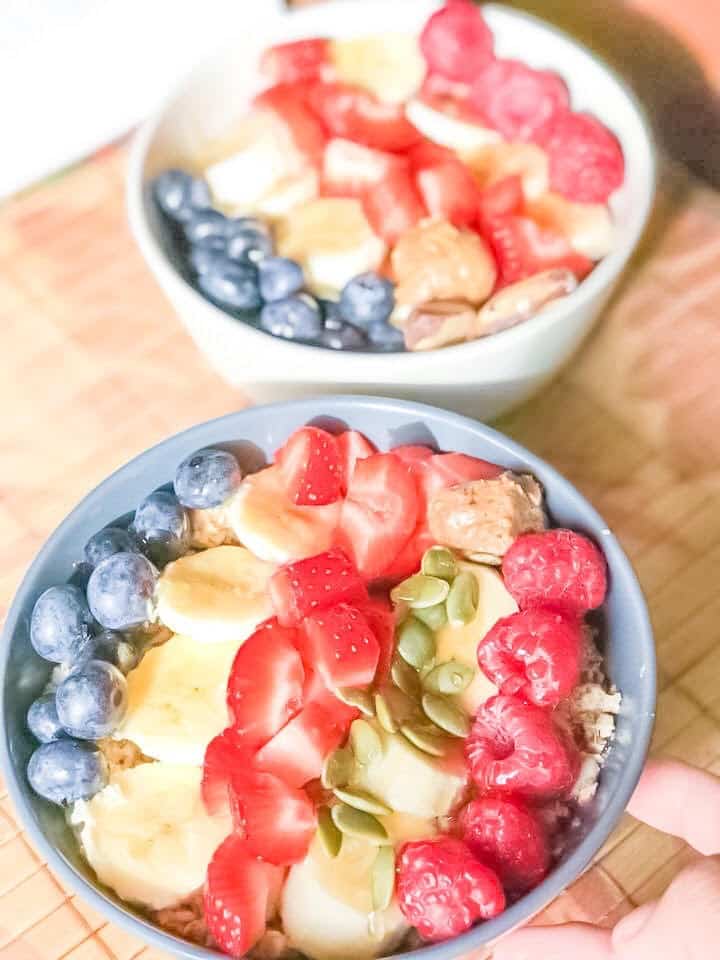 Breakfast: Acai bowl with toppings
Ingredients:
1 tablespoon Acai freeze-dried powder
1/3 cup fresh pineapples
1/3 cup frozen berries
1 large frozen banana
2 tablespoons raw agave syrup
Toppings:
Blueberries
Raspberries
Bananas
Strawberries
Pumpkin seeds
Honey drizzle
Almond butter drizzle
A sprinkle of pink Himalayan salt (optional)
Additional optional toppings: Bee pollen and goji berries
Directions:
Blend the acai, pineapples, frozen berries and bananas, and agave syrup until creamy. (Frozen bananas are what gives this acai bowl a nice creamy texture.)
Pour into a bowl, and top with the toppings listed above.
Lunch: Lasagna
Ingredients:
Lasagna "noodles" = Four large zucchini
Basil pesto: 1.5 cups of tightly packed fresh basil, a pinch of salt, 1 garlic clove, 3 tablespoons extra virgin olive oil, 1 teaspoon nutritional yeast, ½ cup hemp seeds or pine nuts
Macadamia cheese: 3 cups raw macadamia nuts, water as needed, 1 teaspoon salt, 2 tablespoons lime juice, 3 tablespoons nutritional yeast
Tomato sauce: 2 cups sun-dried tomatoes, 1.5 cups fresh tomatoes, 2 tablespoons of the following mixture: oregano, basil, thyme, rosemary, sage, olive oil, salt, 2 teaspoons agave syrup.
Parmesan topping: 2 cups raw cashews, 1 cup hemp seeds, 1 garlic clove, 2 tsp lemon juice, salt to taste, 1 tablespoon olive oil, 1 tablespoon nutritional yeast.
Directions:
Soak the cashews and macadamia nuts in water overnight.
Wash the large zucchinis and skin them. Cut in half vertically, then slice each into thin slices; medium-thin.
Blend the basil pesto until smooth. Seed the tomato and blend the tomato sauce until smooth and add more sundried tomatoes if it is still runny. Blend the macadamia cheese until it has a thick, creamy consistency. Pulsate the parmesan topping into a crumbly consistency.
To assemble, begin by laying and arranging several zucchini slices into a square shape on the plate.
To assemble the lasagna, simply arrange the zucchini slices into a square form on the plate, then add a layer of tomato sauce. Add zucchini slices and alternate the sauces in between. Once you reach the top layer, add a layer of tomato sauce, then liberally sprinkle the parmesan topping. Garnish with basil leaves.
Note: When blending the sauces, use very minimal water, to prevent a watery lasagna.
Dinner: Kale Salad
Ingredients:
2 bunches of kale + salt, lemon juice, and olive oil
Shredded carrots
Red onion
Walnuts
Corn
Mango ginger dressing: 1 cup fresh mango, 2 tablespoons light olive oil, a squeeze of lime, 1 teaspoon cayenne pepper, ½ teaspoon fresh ginger, 2 tablespoons honey
Directions:
De-stem the kale leaves, and wash.
Place the kale leaves in a large bowl, toss with pinches of salt, lemon juice, and olive oil. Mix and massage the kale until it is brightly well coated and decreased in size. This helps release the juices of the kale, and take away some of the bitterness; making it more palatable.
Add shredded carrots, chopped red onion, walnuts, and corn.
Blend the mango dressing in a blender until smooth and drizzle it onto the salad.
Day 1 clean-up
Seal any leftover sauces in an airtight jar, and any remaining vegetables in an airtight Ziplock bag to maintain its freshness.
Day 2
Breakfast prep: Prepare the chia seed pudding the night before.
Breakfast: Chia pudding
Ingredients:
2 cups nondairy milk of your choice, unsweetened (This isn't raw. You can also choose to make your own nut-milk*)
5 tablespoons chia seeds
1 teaspoon vanilla extract
1 tablespoon maple syrup
Fruit toppings
Directions:
Add all the ingredients into a mason jar and mix it well. You can also shake the jar to combine everything.
Let it sit for ten minutes, and then stir again to break up any chunks. Let it sit overnight in the fridge, or for 2 hours. The mixture should be thick and creamy.
Add fruit toppings of your choice, like bananas, berries, and nuts.
*Cashew milk: Soak 1 cup of raw cashews overnight. Drain and rinse. Blend with 4 cups of water on low, and increase to high speed, until it's very smooth. Add 2 teaspoons vanilla extract, 1.5 tablespoons honey, and a pinch of sea salt. Strain the pulp and set aside. You can use this pulp in the pizza crust recipe, meatball, or patty recipe. For a creamier milk, use less water.
Lunch: Spaghetti with meatballs (use leftover sauces from yesterday's lunch)
(Note: To make the raw meatballs, you will need a food dehydrator. If this is not possible, you can opt to warm the meatballs in the oven and keep the cooking to a minimal)
Ingredients:
Spiralized zucchini
Tomato sauce (See Day 1)
Vegan parmesan cheese (See Day 1)
Vegan meatballs: 1 cup mushrooms, 1/3 cup rolled oats, 2 teaspoons agave syrup, 1/3 cup sundried tomatoes, 1 tablespoon sunflower seeds, 1 tablespoon nutritional yeast, 1 tablespoon raw tamari soy sauce , 2 garlic cloves, 1 teaspoon cumin, 1 teaspoon rosemary
Olive oil
Fresh basil
Sea salt
Directions:
Using a spiralizer, spiralize the zucchini.
Vegan meatballs: simply pulse the ingredients in a food processor, and form into balls.
Place the meatballs in the dehydrator at 120 degrees Fahrenheit for 1-2 hours.
To assemble, mix the tomato sauce into the noodles, top with meatballs, lightly drizzle olive oil, sprinkle with parmesan cheese, and garnish with fresh basil.
Dinner: Rainbow lettuce boat salad
Ingredients:
Organic romaine lettuce hearts
Beets
Sprouts
Carrots
Red cabbage
Avocado
Cucumbers
Yellow bell peppers
Raw peanut sauce: raw peanut butter, fresh ginger, red pepper, garlic, tamari, lime juice, agave, water
Directions:
Wash the romaine lettuce and set aside.
Grate the beets, shred the carrots and cabbage, dice the avocado, cut the cucumbers and bell peppers into thin slices.
Blend the peanut sauce ingredients until smooth, and adjust the consistency as desired with water.
To assemble, lay the vegetables on the lettuce heart "boat", then drizzle peanut sauce over.
Day 3
Prep work:
Lunch: Prepare the hamburger buns (if using option 1) and meat patty the night before.
Breakfast: Acai "nice cream" bowl
Ingredients:
Frozen bananas
Beet powder
Frozen acai or freeze-dried acai powder
Coconut milk
Directions:
Blend everything together in a high-speed blender until it's smooth and creamy. ((Frozen bananas are what gives this acai bowl a nice creamy texture.)
I topped my bowl with blackberries, raspberries, coconut shreds, chia seeds, and dragon fruit.
Lunch: Burger & fries (yes, really!)
Ingredients:
Burger bun (Option 1): Almond meal (can be purchased or made by processing raw almonds into a meal) ground sunflower seed, ground chia seeds, flax seed meal, and oat flour (can be made by processing raw oats into a flour) and raisin paste. (Raisin paste – 1/4 cup raisins blended with water until smooth.)
Burger bun (Option 2): 'Wedgie style" bun—just use lettuce leaves as buns.
Raw burger patty: 1/3 cup sun-dried tomatoes, 1/3 cup carrots, ½ cup red bell pepper, 2 garlic cloves, 3 tablespoons flax seed, 2 tablespoons olive oil, 2 teaspoon cumin, 2 teaspoons paprika, ½ teaspoon sea salt, 2 large portobello mushroom caps, ½ cup pumpkin seeds, 1 cup chopped celery, 2 teaspoons rosemary, 3 tablespoons raw tamari.
Dehydrated fries (Option 1): Regular or sweet potatoes, olive oil, sea salt.
Jicama "fries" (Option 2): 1 jicama, 1 teaspoon each onion and garlic powder, ½ teaspoon paprika, 2 tablespoons olive oil, and sea salt.
Sun-dried tomato ketchup: Sundried-tomatoes, lemon, onion, salt, honey, paprika, cayenne, cloves, and minimal water for blending.
Directions:
Burger bun (Option 1): Combine the burger bun ingredients in a food processor and process it. Divide the mixture in 3 equal portions, form small buns, place in the dehydrator at 140 F for 2 hours. Then, decrease the heat to 115 F, and continue to dehydrate for about 8 hours. Store in an airtight container in the fridge (Keeps for 3-5 days) Warm the buns in the dehydrator before serving.
Raw burger patty: Soak the sun-dried tomatoes until they're soft. Grind the flax seeds and pumpkin seeds. Process all the ingredients together until it has the consistency of ground meat. Form into patties. Dehydrate for 1 hour at 175 F. After 3 hours, reduce the heat to 110 F.
Dehydrated fries: After washing the potatoes, feel free to either peel or keep the skin on. If you choose to keep the skin and the potatoes aren't organic, be sure to scrub the skin well while washing. Cut into potato fry shapes, lightly coat with olive oil and sea salt, and dehydrate at 135 F for 30 minutes. Reduce the temperature to 115 F. After 3 hours, check the dryness level.
"Fries" (Option 2): Peel the jicama and slice into fry shapes. You can also buy them pre-packaged to eliminate this step. Combine with olive oil and seasonings until well-combined.
Sun-dried tomato ketchup: Blend together the ingredients.
To assemble, simply arrange it as you would a regular fries and burger. Enjoy!
Dehydration tip: Always check in during the dehydration process and reduce the temperature as desired. A longer dehydration time will yield a drier level.
Dinner: Raw collard wraps
Ingredients:
Large collard leaves
Tahini basil pesto hummus: 1/3 cup raw white sesame seeds, 1/3 cup fresh basil, 1 garlic clove, 2 tablespoons olive oil, sea salt to taste
Cucumbers
Carrots
Zucchini
Radish
Red cabbage
Avocado
Sprouts or baby greens
Directions:
Begin by washing all the ingredients.
To begin making the collard wraps, start by laying one sheet of collard flat, then use a paring knife to thin the stem of the collard as much as possible, without slicing it off since the stem will keep both sides of the leaves together.
Cut the vegetables into thin sticks, and the avocado into slices.
Tahini basil pesto hummus: Blend the ingredients until you have a creamy sauce.
To assemble, spread some hummus in the towards one end of the collard sheet, add the sprouts or baby greens, and begin adding the vegetable sticks of each kind.
Roll the sheet slowly and tightly, making sure it's secured. Slice the roll into twos or threes. This can also be enjoyed with leftover sundried tomato sauce from Day 1.
Day 4
Breakfast: Acai Bowl (see above)
Lunch: Leftover burger & fries from the day before.
Dinner: Raw sushi
Ingredients:
Dried laver
Cauliflower rice* (optional): Processed cauliflower, rice vinegar, and nutritional yeast
Beets "tuna": Raw shredded beets soaked in raw tamari sauce and dried wakame.
Carrots
Cucumber
Avocado
Sprouts or baby arugula
Directions:
Cauliflower rice*: Break a head of cauliflower and pulse in a processor until resembles rice. Add the rice vinegar and yeast flakes, and pulse to combine.
Beets "tuna": Shred the beets, and soak in tamari sauce and dried wakame for one hour.
Cut the carrots and cucumbers into small and thin sticks.
To assemble, lay out a sheet of dried laver on a bamboo sushi mat.
Starting at the end nearest you, lay the cauliflower rice across the sheet, and layer the avocado, carrots, cucumber, shredded beets, and sprouts or baby arugula.
Starting from that end, roll carefully, and slice.
*Cauliflower is loaded with Vitamin A, Vitamin C, Folic Acid, fiber and much more! Significant increases in the blood levels of these key antioxidant nutrients have been seen very quickly in subjects who consume generous amounts of cruciferous vegetables in research studies." –World's Healthiest Foods Site.
Day 5
Prepare the pizza crust in the dehydrator the night before.
Breakfast: Layered breakfast bowl
Ingredients:
Acai bowl: 1 tablespoon Acai freeze-dried powder, 1/3 cup frozen berries, 2 tablespoons raw agave syrup
Banana nice cream: 2 frozen bananas and ½ cup fresh pineapples
Chia seed pudding: See Day 2
Toppings: Sliced bananas, strawberries, blueberries, sunflower seeds, cacao nibs, honey drizzle, raw almond butter drizzle, pinch of Himalayan pink salt.
Directions:
Blend each layer separately until smooth.
Layer each in a bowl, and add the toppings.
Lunch: Pizza
Ingredients:
Crust: ½ red bell pepper, 1/3 cup sunflower seeds, ½ hemp seeds, ½ cup flax seeds, sea salt.
Sauce: Tomatoes, sundried tomatoes, lemon juice, 2 tsp agave, garlic clove, fresh basil and oregano
Toppings: Spinach, basil, onion, tomato, and mushrooms.
Parmesan cheese: 2 cups raw cashews, 1 cup hemp seeds, 1 garlic clove, 2 tsp lemon juice, salt to taste, 1 tablespoon olive oil, 1 tablespoon nutritional yeast.
Directions:
Crust: Process all the ingredients until it resembles dough. Spread on a pizza pan, and dehydrate for 3.5 hours at 120 F. It should resemble a massive cracker.
Sauce: Blend the sauce until it's smooth.
Toppings: Drain any excess water from vegetables, slice them thinly, and add them on top of the pizza.
Parmesan cheese: Blend the raw dry cashews in a food processor until they resemble a crumble consistency. Pulse the remaining ingredients, and blend until smooth. Shape into your desired shape, and refrigerate overnight. Grate this over the pizza.
Assemble the pizza as normal.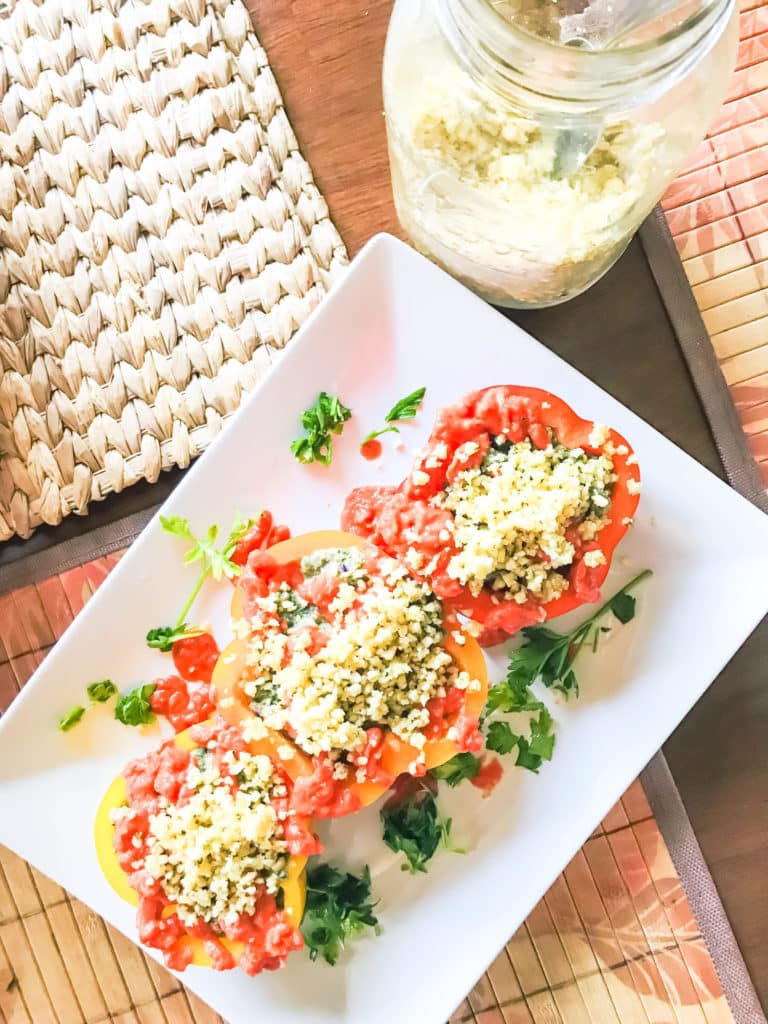 Dinner: Stuffed Peppers
Ingredients:
Large red, green, orange, and yellow bell peppers
"Nacho" cheese: red bell pepper, cashews, nutritional yeast, garlic clove, lemon juice, sea salt.
Stuffing Options: Hamburger patty from Day 3, or meatballs from Day 2.
Directions:
Wash the bell peppers and slice off the top.
Remove the white flesh inside.
Pulse the stuffing ingredients in a food processor.
Blend the nacho cheese until smooth, and scoop a few tablespoons inside the hollow bell pepper.
Fill it with stuffing, and top with dollops of more nacho cheese. Enjoy!
Shopping List:
Produce:
Pineapples
Bananas
Blueberries
Raspberries
Blackberries
Strawberries
Zucchini
Basil
Garlic cloves
Lemons
Tomatoes
Bunches of kale
Carrots
Red onions
Organic corn (if possible)
Mangos
Giner
Limes
Mushroom
Organic romaine lettuce hearts (organic if possible)
Avocados
Cucumbers
Bell peppers: yellow, green, orange, and red variety
Celery
Regular or sweet potatoes
Jicama
Large collard leaves
Radishes
Red cabbage
Sprouts or baby greens
Baby arugula
Head of cauliflower
Beets
Spinach
Frozen:
Frozen berries (freezing fresh berries are best)
Condiments:
Raw agave syrup
Raw honey
Extra virgin cold-pressed olive oil
Raw tamari soy sauce
Spices:
Himalayan pink salt
Sea salt
Nutritional yeast (Not to be confused with brewer's yeast)
Oregano, basil, thyme, rosemary, sage
Cayenne pepper
Pure vanilla extract
Coconut milk
Cumin
Paprika
Onion and garlic powder
Nuts, Grains, and Miscellaneous:
Acai freeze-dried powder or frozen acai
Beet powder
Raw unsalted pumpkin seeds
Raw almond butter
Raw peanut butter
Shelled hemp seeds
Raw unsalted pine nuts (if using as an option)
Raw unsalted macadamia nuts
Raw unsalted cashews
Sun-dried tomatoes
Raw unsalted walnuts
Chia seeds
Rolled Oats
Raisins
Flaxseeds
White sesame seeds
I hope you found this helpful! Comment below any questions you may have. Cheers to a healthier you!