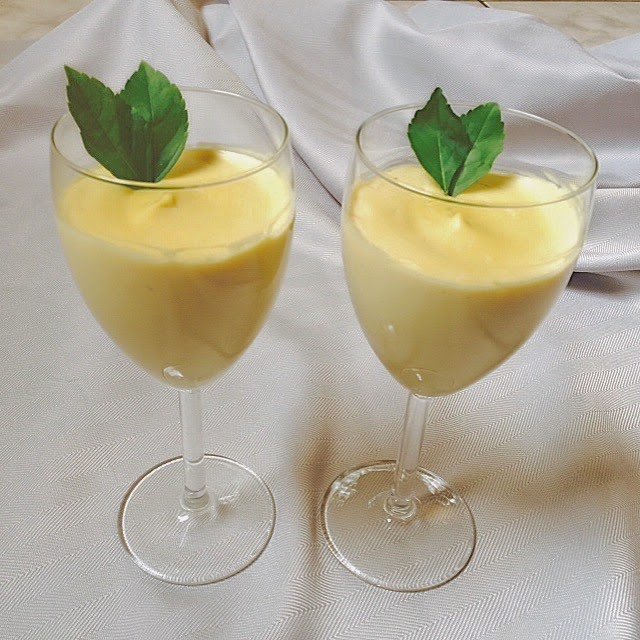 This is a taste bud tickler. It's one of my favorite Brazilian desserts, made vegan. Sometimes you just want something sweet, but not too sweet. This is the perfect blend. A subtle sweetness with a hint of tart. It is very simple to make and there are really only two steps.
Another great thing about this dessert is you don't have to feel guilty afterwards. Agave nectar is the only sweetener used in the recipe, plus there are many health benefits to eating passion fruit. We hope you enjoy the recipe, especially when you realize how healthy it is for you as well.

Benefits of Passion Fruit
Passion fruit helps to fight against disease of the blood, intestines, and nervous system. It also helps with nervousness and anxiety. It is a fruit with one of the richest sources of iron, so it helps with iron deficiency anemia. Even though it is a non-heme iron, it is still highly absorbed due to it having plenty of vitamin C. There is plenty of fiber in passion fruit, which means it helps with constipation. It is one of the richest fruit products in soluble fiber, which helps with satiety.
If you decide to use fresh passion fruit in the recipe, which I recommend, this is how you extract passion fruit juice.
How to Extract Passion Fruit Juice
1. Remove pulp with a spoon
2. Strain it to remove the seeds
3. Blend it to a homogenous consistency
Ingredients
| Quantity | Unit | Name | Link | Alternatives |
| --- | --- | --- | --- | --- |
| 1 | cup | raw cashews | | |
| 1 | cup | water | | |
| 1 | package | passion fruit concentrate | | |
| ¼ | cup | agave nectar or 2 passion fruits | | |
Instructions
Just put the ingredients into the blender and blend very well.
If your blender can heat the mix, you can blend it for about 10 minutes until it is hot and becomes thicker.
If you have a regular blender, pour the contents into a pan and heat to a boil stirring continually.
Place in serving dishes and let them chill in the refrigerator. Enjoy!
Prep Time
:
Serving Size
: