Most kids are not huge fans of vegetables. I remember multiple occasions as a child sitting at the dinner table for what seemed like hours, just because I was refusing to eat my vegetables. Sometimes I would put the vegetables in a napkin and put it in my pocket, then ask to go to the bathroom, where I would flush them down the toilet or put them behind a step that was removable. Ew, that means they rotted away back there! Anyway, I have a point to all this…
Potlucks live up to their name, lucky or unlucky. I remember a specific potluck at our church when I was little, because it was when I realized I could like vegetables. My mom made me get some type of vegetable for lunch and dinner, just like all good moms do. Well, one time at potluck my mom gave me salad. Yuck! (Now I love salad, but think as a kids for a minute…yuck.) This salad was different though. It had your typical lettuce, tomato combo, but it also had chips in it. Kids love chips! Some type of veggie meat was in it as well, but I focused on the chips as I prepared to eat it.  Yummy! Taco salad! Genius.
This potluck recipe was lucky indeed, and it helped me to enjoy eating my vegetables as a kid. Now I can still enjoy it as an adult as well. After my first encounter I would always eagerly look to see if the taco salad was part of the potluck. I was always bummed when the lady didn't make the taco salad, because that meant I had to eat the regular boring vegetables, or stink them in a waded up napkin.
Things have come full circle and now I'm the lady who makes taco salad for potlucks. Your kids will thank me someday.  I thought I would share the recipe with you; whether your children are picky or not, they are sure to love it.
If you'd like to make the salad heartier you can easily add beans (refried or regular) or some brown rice.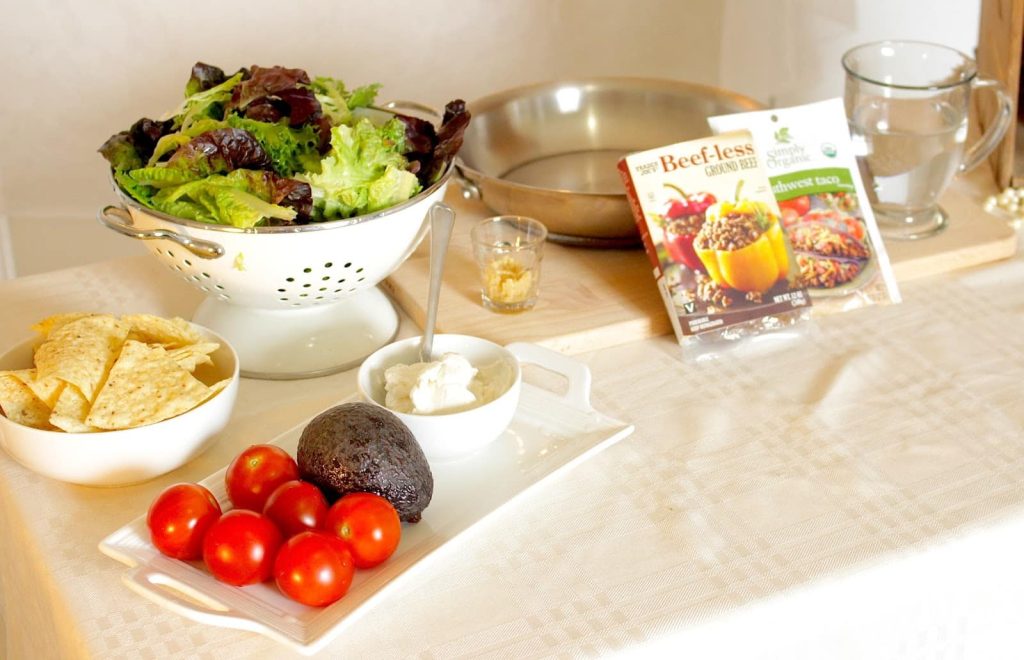 Ingredients
| Quantity | Unit | Name | Link | Alternatives |
| --- | --- | --- | --- | --- |
| 1 | head | lettuce | | |
| 1 | | tomato, diced | | |
| 1 | | avocado, diced | | |
| 1 | cup | tortilla chips, broken into smallerpieces | | |
| 1 | clove | garlic, minced | | |
| 1 | package (12-14oz) | veggie meat | | |
| ½ | packet | taco seasoning | | |
| ¼ | cup | vegenaise | | |
Instructions
Sauté a clove of garlic on medium heat with a small amount of water for 3 to 5 minutes.
Add veggie beef and taco seasoning to the garlic in the pan. You can also add a small amount of water too keep it from drying out.
As the meat is cooking, cut the lettuce, tomato, and avocado and combine them in a large serving bowl. Also break the tortilla chips into smaller pieces so they will mix throughout the salad.
After browning the veggie beef, allow it to cool for about 5 minutes. Then add the ¼ cup of vegenaise to the meat and mix well.
Combine all ingredients in the large serving bowl, mix thoroughly, and serve. Tip: if you are not eating the salad now, store the veggie meat and tortilla chips in a separate container and mix before serving.
Prep Time
:
Serving Size
: