There's no better gift than a gift that can change a life forever. This holiday season, if you are someone with diabetes or know someone who is searching for a way to rid themselves of diabetes forever, consider sharing the sustainable gift of healing.
For a limited time during the holiday season, we're offering the full Diabetes Undone DVD course and cookbook set for only $79, originally priced at $124.
From Plant to Plate: Diabetes Edition Cookbook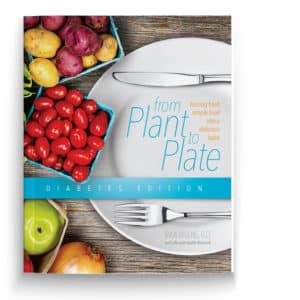 An encouraging, beautiful book written and assembled by a talented team of medical professionals who believe in the sustaining power of lifestyle health.
Includes comprehensive information about diabetes and plant-based cooking, as well as 92 recipes for diabetic-friendly entrees, sides, soups, salads, sauces, and desserts that offer practical and delicious ways to reverse diabetes.
Each recipe comes with nutritional facts, tips, and a QR code that when scanned, takes the chef to a cooking video of that recipe, making each recipe doable by even the most novice cook.
Diabetes Undone 3-disc DVD Set
A fresh, easy to understand and implement 9-part series on what diabetes is, common misconceptions that have prevented millions from overcoming diabetes, and finally how to reverse diabetes through simple lifestyle change.
Hosted by Dr. Wes Youngberg, DrPH, who has spent over 25 years of his career empowering clients to use integrative lifestyle therapies to prevent, reverse, or improve diabetes and many other health conditions.
Encouraging testimonials by people who have finished the program and succeeded in reversing diabetes.
"Six months [after starting the program], I was declared non-diabetic. I reversed it. It's been one and a half years, and I'm still not diabetic or prediabetic, and that itself is the reward." – Tom Zapara, 91-year old Diabetes Undone participant
Why this can change lives:
Diabetes Undone isn't a "managing diabetes" program; it proposes complete diabetes reversal.
Yes, Diabetes Undone offers hope to the millions of people worldwide who, upon receiving their diagnosis, imagine the rest of their lives being dictated by needles and pills.
The idea that diabetes type 2 is an irreversible condition is a hugely unfortunate misconception. In fact, there is a much better way that requires only positive lifestyle commitments clearly outlined in Diabetes Undone. Simply by adhering to the program, diabetics everywhere can strive to hear the following statement from their doctor: "You are no longer a diabetic."
Order your set here today!