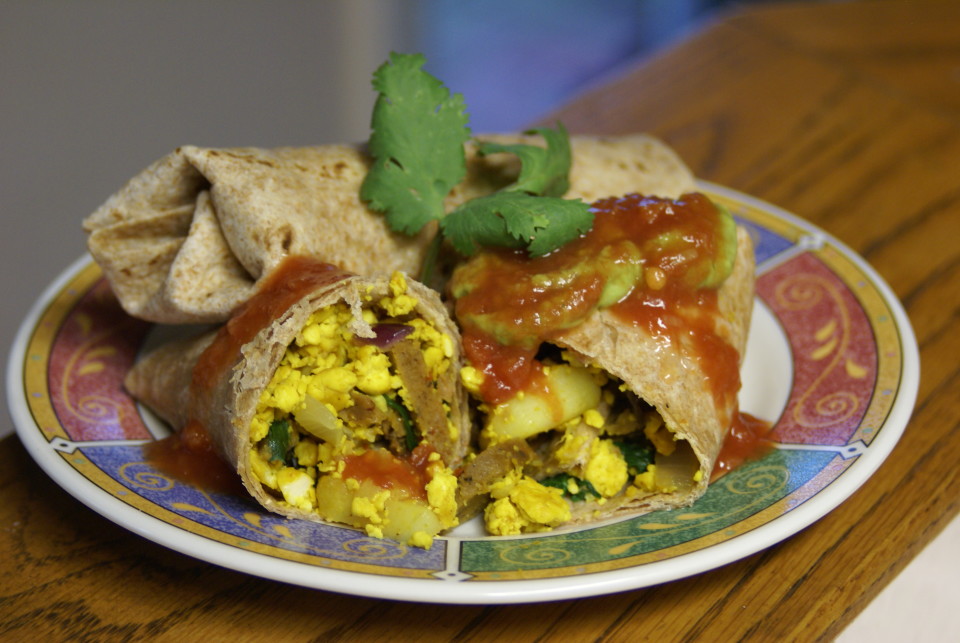 Like a savory breakfast but don't have much time in the morning? This recipe is for you! Make and freeze the burritos ahead of time and you have a quick and easy breakfast for the extra busy days.
Ingredients
1 batch Simple Scrambled Tofu (basic version)
½ cup diced potatoes
⅓ cup black olives
¼ cup diced red onion
1½ cups loosely packed spinach
¾ cup vegetarian meat alternative (ex: Tofurkey's Italian Sausage diced)
8 whole grain tortillas
salsa
Instructions
Prepare Simple Scrambled Tofu recipe.
Add rest of the ingredients (except spinach) and stir occasionally until all ingredients are heated.
Add washed spinach and fold into the mixture (allowing it to soften).
Place ⅛ of the mixture in the middle of each tortilla shell. Fold the left and right sides in about 1 inch. Roll the tortilla starting from the side closest to you making sure to keep the left and right sides tucked in (this helps to keep the filling inside).
Top with salsa and add some guacamole for extra deliciousness!
For busy mornings, freeze tortillas in an air-tight ziplock bag. To enjoy: take the burrito out of the bag and defrost in the microwave for one minute. Top with salsa and enjoy!
Ready in about 40 minutes
Makes 8 burritos