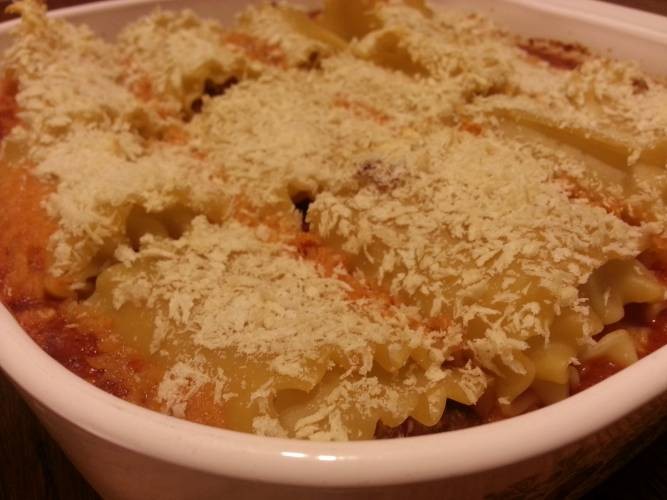 A fun twist on traditional lasagna.
Ingredients
1 16 ounce package lasagna pasta
1 ½ cups vegetarian beef crumbles or bulgar meat
½ cup tofu or vegan ricotta cheese
¼ cup vegan cheese
1 tablespoon flour
1 tablespoon water
1 teaspoon garlic powder
¼ cup diced red onion
1 44 ounce jar tomato and basil pasta sauce
1 cup bread crumbs (optional)
Instructions
Cook pasta according to package ins ructions. Drain and lay out on a bread board or parchment paper.
Preheat oven to 350 F.
Mix beef crumbles, tofu or ricotta cheese, vegan cheese, flour, water, garlic powder, and diced onion in a small bowl.
Spread a thin layer of pasta sauce down the length of each piece of lasagna pasta.
Scoop 1 tablespoon of filling onto one end of the lasagna and spread it down the lasagna.
Finish all of the pieces of lasagna. Pour the extra sauce into the bottom of a casserole dish.
Roll the finished lasagna pieces in bread crumbs (optional). Place them into the casserole dish and bake for 25 minutes.
Ready in about 45 minutes
Makes 6 servings