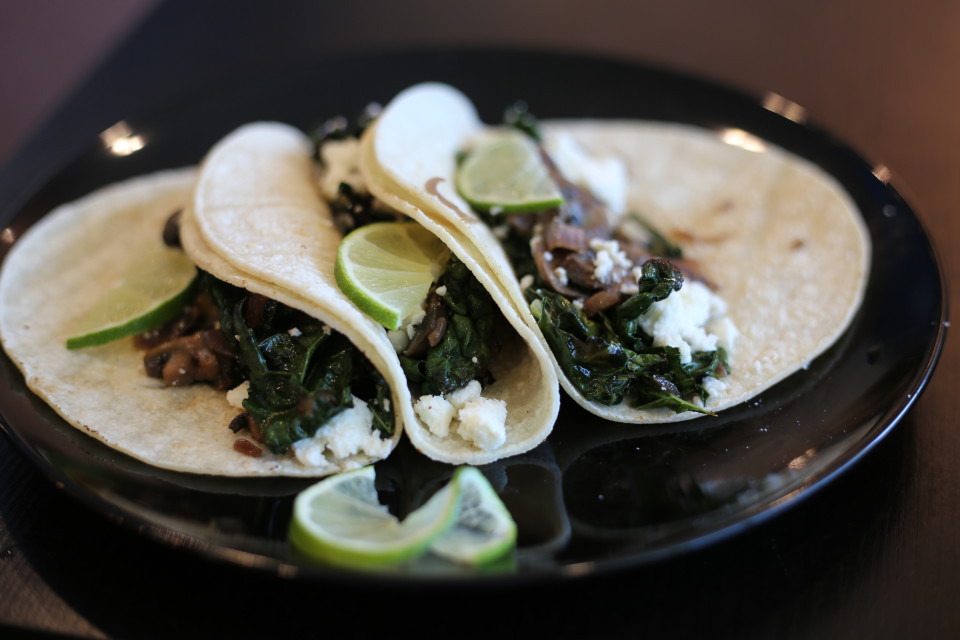 Enjoy Latin American food but like to mix it up a bit? Try this healthy, creative and delicious way to eat your dark leafy greens!
Ingredients
16 ounces Crimini mushrooms
6 cups packed, chopped kale
2 tablespoons olive oil
1 teaspoon salt
10 corn tortillas
1 large red onion
6 cloves garlic
vegan cheese shreds or crumbles, salsa, or lime (optional)
Instructions
Mince the garlic and slice the onions into quarters. Sauté in a frying pan in 2 teaspoons of olive oil over med-low heat.
Slice the mushrooms and add them to the frying pan. Continue to sauté until very soft and starting to caramelize (approximately 15-20 minutes).
Heat the oven to 425°. Wash and rib the kale (remove the large stems, keeping the leaves). Mix with the remaining olive oil, add salt and bake spread out on a cookie sheet until crisp (approximately 15-20 minutes).
Add the baked kale to the cooked mushroom mixture.
Warm the tortillas over medium heat in a frying pan.
Stuff the tortillas with the mushroom and kale filling. Top with vegan cheese, salsa, or lime. Enjoy!
Ready in about 30 minutes
Makes 4 people