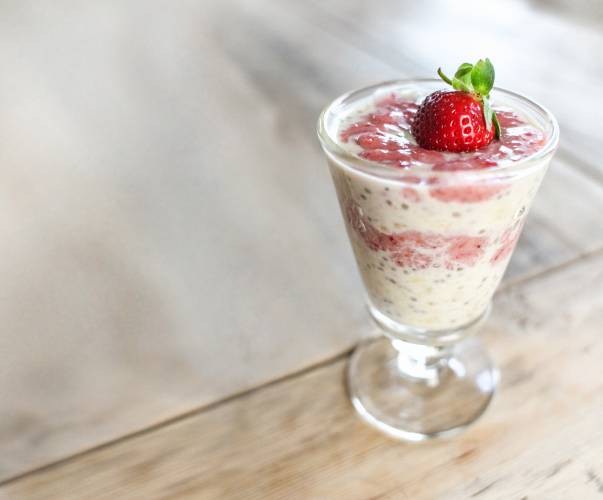 Chia seeds are fascinating little bundles of Omega-3s. When they're soaked in water, a gelatinous coating forms around the seed, very much like tomato seeds. I like mashed banana in this because it thickens the mixture while adding a lot of volume. If the pudding is too thin for your liking, you can add more chia seeds and let it sit for 10 more minutes.
Ingredients
⅓ cup rolled oats
1 cup unsweetened soy or almond milk
1 tablespoon chia seeds
1 overripe banana, mashed
¼ teaspoon pure vanilla extract
pinch of salt
Instructions
Mix ingredients in a bowl and place in the fridge overnight. In the morning, add your choice of toppings like peaches, mangoes, berries, nut butter—whatever you'd like.
Tip: Turn it into a parfait with fruit and a frozen banana cream (frozen bananas blended into a cream-like consistency).
TIP: If you're not a fan of the tapioca-like consistency of chia seed pudding, transfer pudding to a blender and blend until smooth.
Ready in about Overnight
Makes 1 serving