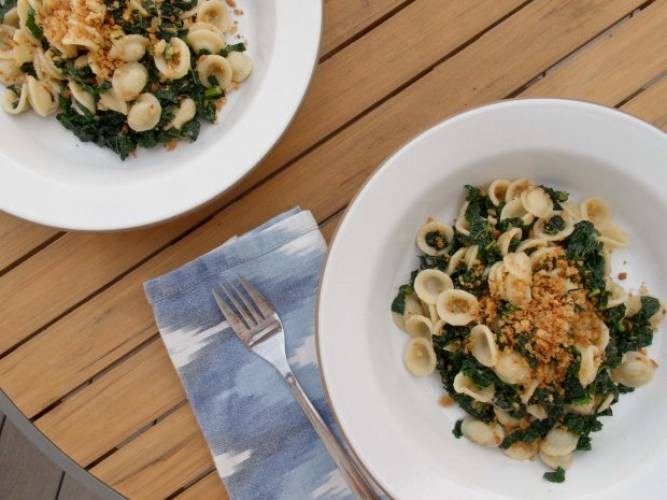 This is a very garlicky recipe, so don't go to an important meeting after you've eaten it! I used about one bunch of kale for this, but not a whole head of garlic, because what I have is very strong. If you are nervous about how much heat you will get from the chili or the red pepper flakes, start with a little and add more until you are happy with the level of heat.
Ingredients
1⁄2 pound whole-wheat pasta
1⁄4 cup extra virgin olive oil
1 head garlic, minced finely
red pepper flakes, to taste
1 bunch kale
1/3 cup bread crumbs (optional)
salt, to taste
Instructions
In a large pot, put water on to boil. While the water is coming to a boil, finely chop a head of garlic. In a small skillet, slowly cook the garlic with some red pepper flakes in enough oil for the garlic to move around freely, stirring occasionally until it is pale golden, then remove it from the heat.
Add spaghetti, and after 3 to 4 minutes, add kale. When the pasta is ready, scoop it with tongs into a serving bowl, then top it with the crispy golden garlic and oil, adding more fresh oil if needed. Mix in some bread crumbs, if using. Add salt to taste.
Ready in about 20 minutes
Makes 4 servings