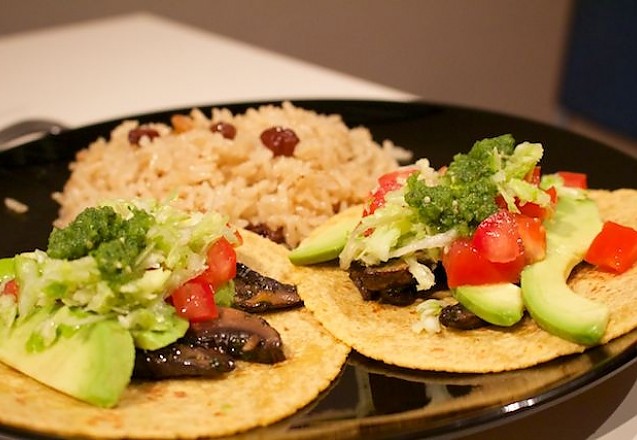 A delicious dish infused with Latin American flavors from the Argentinian Chimichurri Sauce to the Mexican Salsa Verde.
Ingredients
12 corn tortillas
6 portobello mushrooms
3 medium tomatoes, diced
2 cups shredded cabbage
2 avocados, sliced
1 teaspoon lemon juice
1 teaspoon extra virgin olive oil
dash of salt
CHIMICHURRI SAUCE:
3 cloves garlic, minced
¼ cup fresh parsley, finely chopped
2 teaspoons dried oregano
½ teaspoon red pepper flakes (optional, for spicy dish)
2 teaspoons Bragg's Liquid Aminos
2 tablespoons lemon juice
2 tablespoons pure grape juice (no added sweetener)
¼ cup extra virgin olive oil
SALSA VERDE:
4 tomatillos
1 poblano chile
1 bunch fresh cilantro
1 white onion
2 cloves garlic
½ teaspoon salt
Instructions
To prepare the portobellos: Mix all of the ingredients for the Chimichurri Sauce except Bragg's Liquid Aminos. Cut the mushrooms into ½ inch strips and marinate for 10 minutes in the Chimichurri Sauce. Heat a frying pan and sauté the mushrooms for 10-15 minutes, turning frequently until cooked (soft). Add the Bragg's Liquid Aminos a few minutes before removing from heat.
Salsa Verde: Place all of the Salsa Verde ingredients in a blender and blend at low speed until well mixed.
Topping: In a medium bowl, add the cabbage and diced tomato. Season with 1 teaspoon of lemon juice, 1 teaspoon of olive oil, and a dash of salt. Mix well.
Warm the tortillas and layer the portobello mushrooms, toppings, avocado, and Salsa Verde on top. Enjoy! ¡Buen provecho!
Ready in about 1 hour
Makes 6 Servings