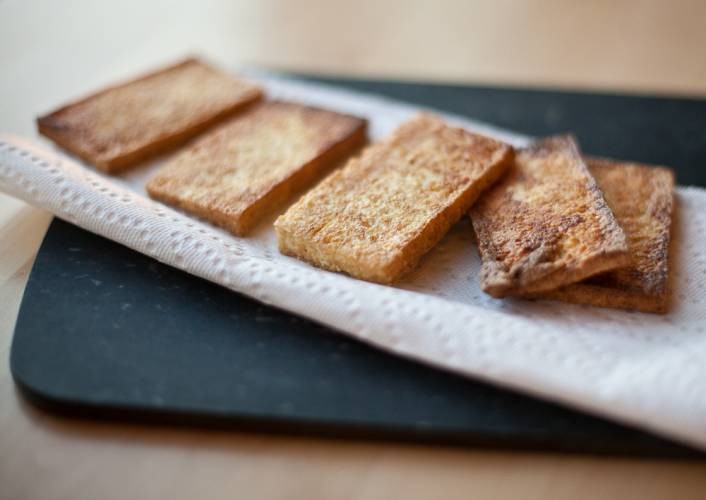 A perfect and delicious throw-together dish for your next dinner party, brown-bag lunch, or even breakfast.
Ingredients
½ block firm tofu, cubed
1-2 cups brown rice, cooked
2 handfuls bok choy or other dark green leafy vegetable, like spinach, kale, or chard
1 cup frozen vegetables, like peas and corn
4-5 green onions, sliced into thin rounds
2-3 tablespoons Bragg's Liquid Aminos or soy sauce
1-2 tablespoons rice wine vinegar
Optional add-ins: grated ginger, 2-3 cloves minced garlic, 1 tablespoon hot sauce, splash of sesame oil
Instructions
Place a skillet over medium heat and add a teaspoon of olive oil. Sear the tofu on all sides until tofu is golden-brown. Remove tofu from heat and set aside.
Add another teaspoon of oil to the pan and stir in the rice. Make sure the grains of rice are coated with a little oil, then spread the rice into a thin layer across the bottom of the pan. Let it cook for a few minutes, then gather it together and spread it out in a thin layer again. Continue until the rice is toasted and is beginning to brown.
Add 2 tablespoons of Bragg's Liquid Aminos and 1 tablespoon of rice wine vinegar (and ginger and garlic, if using) and stir. Add the bok choy (or leafy vegetable) and cook until wilted. Add the peas and carrots, cooking until they are warmed through. Stir in the tofu and spring onions.
Taste and season with soy sauce and vinegar if needed. Hot sauce and sesame oil can be added at this point.
Ready in about 15 minutes
Makes 2-4 servings