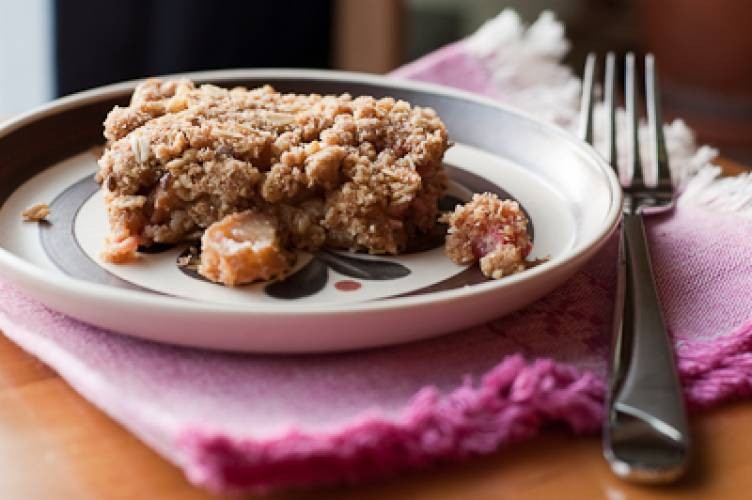 We love our oat recipes, and this oat recipe puts a perfectly seasonal spin on oat bars, turning a year-round thing into something special.
Ingredients
1½ cups rolled oats
1 cup + 2 tablespoons all-purpose flour, divided
¾ cup brown sugar, packed
½ cup Earth Balance
¼ cup granulated sugar
½ teaspoons ginger, ground
2 cups rhubarb, sliced
Instructions
Make the crust: Preheat oven to 350F and line an 8x8 pan with foil extending over the edges of the pan. In a large bowl, combine the oats, 1 cup of flour, and brown sugar, and cut the butter in until the mixture looks crumb-like in texture. Set aside a cup of the mixture and press the rest into the bottom of the pan, baking for 25 minutes.
While the crust is baking, prepare the rhubarb: Combine the granulated sugar with 2 tablespoons of flour, ground ginger, and rhubarb and toss to coat the rhubarb.
When the crust is done, add the fruit to the top of the hot crust and sprinkle the remaining oat mixture eon top, pressing it all down. Bake until golden brown--about 30-35 minutes. Cut into squares when cooled.
Ready in about 1 hour
Makes 1 8x8 pan