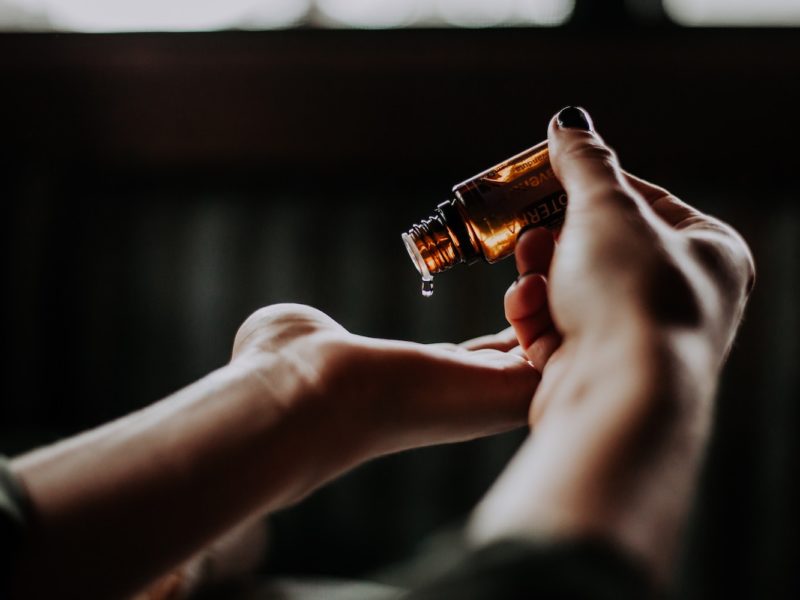 As a child, I loved going the park. One of my mom's favorite activities was to pick some pine needles from the pine tree, break it in half, and smell its aroma. I liked it too; it was very pleasant and relaxing. That aroma is the essential oil of the plant. It is found on the surface of the plant, or inside the plant material. My favorite essential oils are lavender, peppermint, and orange, and its usage was very beneficial for me.
Essential oils are found in plants for very essential purposes! It helps with allelopathy, attracts pollinators, defends against insects, and protects against fungus and bacteria.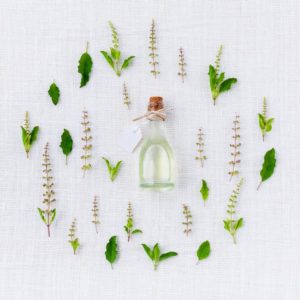 The process of extracting essential oils is by water or steam distillation, or even cold-pressing. Pure essential oils are those that are not obtained by chemical processes. Some oils are isolated by maceration. The plant material is softened in warm water, which releases the essential oil.  Several factors influence the quality of essential oils, such as; the weather, geographical location, and distillation.
Essential oils are widely used for aromatic and medicinal purposes. You will notice that when you open a bottle, the scent quickly fills the room, and the aroma is potent. These are due to chemical properties in the essential oil that allow it to move rapidly in the air. That is why essential oils are ideal for physical and emotional wellness.  
Essential for Your Health?
Inhaling the aromas can stimulate the limbic system; it involves our emotions, behaviors, smell, breathing, heart rate, blood pressure, and long-term memory. Have you ever associated a smell with a memory? This explains why certain smells can trigger memories.
Aromatherapy
There are several ways in which to apply essential oils to positively affect the mind and body.
Cosmetic Aromatherapy – Used for cleansing, moisturizing, drying, and toning on the skin, body, face, and air. It is also beneficial to use in a full-body or foot bath.
Massage Aromatherapy – Essential oils are combined with carrier oils to use for massage.
Medical Aromatherapy – Used to promote and treat clinically diagnosed medical ailments, and even for massage on patients during surgery.
Olfactory Aromatherapy – Inhaling essential oils can enhance emotional well-being, encouraging relaxation and calmness.
Psycho-aromatherapy – Since our brain links scents with memories, essential oils can help promote a pleasant memory by infusing it in the room of the patient.
Essential Oils for Pain
We all have varying tolerance levels of pain, but we all love relief from any intensity of pain.  
Rose
The oil is extracted from the Rosa species petals. Studies on the therapeutic effect of Rosa damascene oil have shown that aroma massage therapy helped decrease menstrual cycle pain and renal colic pain.  Mix a couple of drops with a carrier oil and apply to the back of the neck or lower abdomen for menstrual cycle pain. Apply it to your lower back for renal colic pain.
"In Persian Medicine, rose oil has been alleged to have anti-inflammatory, anti-infective and wound healing activities and has been used for relieving headache, hemorrhoids, inflammatory conditions of gastrointestinal tract, and muscular pain"  (Agili Shirazi, 2008; Ibn Sina, 2005).
Roses function more than a beautiful gift for special occasions and loved ones. Consider a bottle of rose essential oil to help alleviate your pain. (Check How to Apply Essential Oils section)
Lavender
Lavender has a variety of curative properties that include treatment for cuts, burns, insect bites, and parasitic infections. Studies suggest that lavender has anti-convulsant, anti-depressive, anxiolytic, sedative, and calming properties. It is an effective analgesic and anti-inflammatory. It is beneficial in treating pain and tremors and is commonly used orally in treatments.
Amazing Cases in which Lavender Oil Reduced Pain
Lavender is useful in treating chronic or intractable pain. Various forms of treatment involving lavender helped in the following cases: a patient receive significant pain relief from an ulceration, the pain intensity of a needle insertion was significantly reduced, and essential oil was used for a foot massage. It is effective for lowering blood pressure, heart rate, pain, and more.
Lavender may help relieve:
Headaches

Migraines

Sore Muscles
Apply a couple drops of lavender essential oil to a carrier oil and massage to soothe sore muscles or add a few drops to your Epsom salt bath (Relieves joint pain, especially from winter blues) You can also inhale it by adding 2 drops to a boiling pot of water. Use an umbrella over your head to catch the steam, and then from a distance, inhale the vapors. Use caution, and do not place your face too close to the pot to inhale the steam directly.
(Scroll down for How to Apply Essential Oils section)
Peppermint Oil
Peppermint oil helps treat headaches and migraines. It contains menthol, which helps relax muscles and ease pain. It can be applied to the temples when diluted with a carrier oil.
(Scroll down for How to Apply Essential Oils section)
Tea Tree Oil
Tea tree oil can help reduce inflammation in hemorrhoids, which will help reduce pain caused by the inflamed hemorrhoids. You can apply it topically or add the drops in a bath. Tea tree oil can also be used to relieve pain from arthritis by massage.
(Scroll down for How to Apply Essential Oils section)
Rosemary Oil
Studies show that rosemary is an effective essential oil to reduce pain. Hemodialysis patients were given a topical application of rosemary, which helped "alleviate severity and frequency" of the pain.
(Scroll down for How to Apply Essential Oils section)
Bergamot Oil
Bergamot is used to help treat neuropathic pain and is a very effective one.  It is often resistant to opioid pain medications. It is commonly used to treat chronic pain. Studies also show a reduction of pain in patients with terminal cancer.
(Scroll down for How to Apply Essential Oils section)
Ways to Relieve Pain:
Massage
Topically
Inhalation/Hot shower
Hot bath
How to Apply Essential Oils
It is very important to always dilute your essential oil of choice with a carrier oil. A carrier oil is basically an oil that helps dilute the essential oil, thus helping to "carry" it into the skin. Essential oils are very concentrated, and a little goes a long way. Only 1-2 drops are needed. It is always important to do a skin patch test before applying essential oils and check the recommended dosage on the bottle for best results. Here is a list of commonly used carrier oils:
Coconut oil (This is one is my favorite!)

Jojoba oil

Castor oil

Sweet Almond oil

Grapeseed oil
Choosing the Correct Essential Oils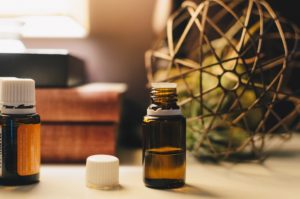 It is important to make sure that the essential oils you purchase are pure and medical grade. Many companies will claim this, but there are ways to determine its true nature. Here are three things to consider:
Purity – Oils that provide mild fragrance or flavors do not have therapeutic benefits like essential oils. Find retailers that specialize in selling essential oils.
Quality  – Look for essential oils that identify with their scientific or botanical name. It is also important to note the extraction process, plant origin, and expiration date. As much as possible, use oils that are organic (no pesticides or sprays)
Reputation – Companies should be transparent about their essential oil products, have done extensive testing on the product, and are able to answer questions relating to it. Another bonus is when companies are members of associations or other affiliations that have ethical standards.
Current Market Trends
In 2016, the global essential oils market size was valued at USD 6.63 billion (2). "It is expected to grow at a CAGR (compound annual growth rate) of more than 11% during period 2017-202 (3)1."
This is due to a growing demand for product line extensions, air fresheners with essential oils as the active ingredient, natural personal care products and cleaning products, spa and relaxation, and flavors in pharmaceutical ingredients. Growing consumer income and more knowledge on personal health are expected to contribute to the growth of this industry.
Orange oil had the highest demand in 2015. "Asia Pacific is expected to be the fastest growing regional market."
Essential Oil Safety
As with many things that we ingest in or apply to our bodies, moderation and correct application are key. It is also important to do a test patch before applying it in the desired area of the body. Essential oils are considered safe. It should not be ingested but can be used topically when diluted with a carrier oil, through steam inhalation, and in an essential oil diffuser. Essential oils are very concentrated, so a little goes a long way.
---
Sources:
https://www.sciencedirect.com/science/article/pii/S2221169115001033
https://www.grandviewresearch.com/industry-analysis/essential-oils-market
https://www.businesswire.com/news/home/20170503006092/en/Top-3-Trends-Impacting-Global-Organic-Essential
https://www.ncbi.nlm.nih.gov/pmc/articles/PMC5511972/
https://www.ncbi.nlm.nih.gov/pmc/articles/PMC3612440/
https://www.aafp.org/afp/2007/0401/p1027.html#afp20070401p1027-b15
https://link.springer.com/article/10.1007%2Fs13304-012-0153-4
https://www.ncbi.nlm.nih.gov/pmc/articles/PMC5684790/
https://www.ncbi.nlm.nih.gov/pmc/articles/PMC4345801/
https://www.thieme-connect.com/products/ejournals/abstract/10.1055/s-0035-1565356