When I was picking recipes for this series, I had no intention of choosing a salad. After all, creating a vegan salad isn't much of a feat. But when I stumbled across this recipe for a roasted beet and carrot salad, I knew I had to try it because it was a take on one of my favorite salads of all time.
The sweet satisfying bite of a roasted beet goes great with a savory component like goat cheese, smoked fish or hard-boiled eggs. My favorite version includes roasted red and golden beets, smoked trout, fingerling potatoes, capers and hard-boiled eggs.
How does this vegan version hold up? Let's find out.
THE COOK
Not much to report here. We're talking salad after all.
Admittedly, it's not often you have to warm up the oven for a salad but, as implied by the name, roasting is required.
Thankfully, it's really just a simple toss of the beets and carrots in some olive oil and salt before shooting them into the oven. Pro tip: wear some disposable gloves or be ready to have some blood-red fingers.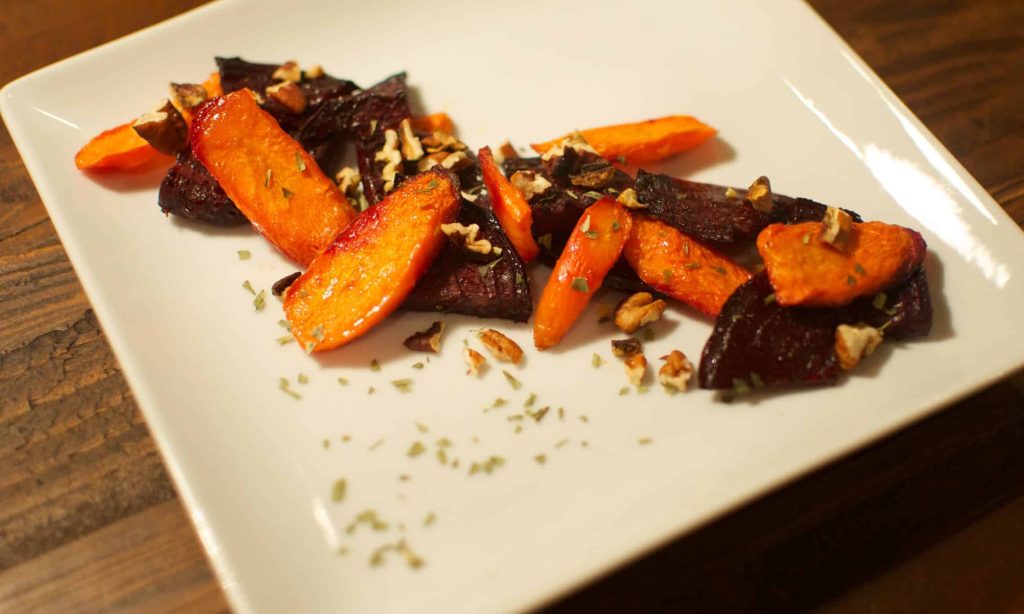 THE TASTE
I realized in the middle of eating that this was essentially a dressing-less salad. But that isn't to say that it was bland.
If you think about it, all it really takes for a good dressing is olive oil, something acidic and seasoning. While the recipe doesn't call for any vinegar or citrus, the beets and carrots are naturally very sweet and since I roasted them in olive oil and salt — the other parts of a good dressing — it was plenty flavorful.
If you were to eat just these roasted root vegetables, it could actually be cloyingly sweet. This is where a savory component, like fish or cheese, would come in handy. Playing that part for this dish: pecans.
The toasted pecans actually did a great job of adding not only a salty nuttiness to an otherwise sweet dish, it also provided a nice contrast in texture with its satisfying crunch. I will admit, I still missed my smoked trout, but the dish was delicious nonetheless.
THE VERDICT
If you don't have much experience with beets, it can actually be a bit intimidating to purchase them at the store; especially the ones with the gigantic stalk still attached. But beets are a great component of many dishes and a properly done beet salad is a thing of beauty, for the eyes and the tastebuds.
Again, I was surprised by how flavorful the results were relative to how simple the recipe was. And if the pecans just don't cut it for you carnivores out there, try adding a boiled egg, a high quality smoked trout or even just some potatoes to "beef up" the meal.
Oh, and public service announcement: eating beets can cause urine to turn red or pink. My brain let out a startled mental scream and I did some furious Googling leading up to that discovery. Happy eating!
---
Click to read Jason's other "Vegan-ish" articles:
The original recipe for Roasted Beet And Carrot Salad is in Life & Health's plant-based cookbook, From Plate to Plate, which can be purchased here.