Described by the cookbook as "nutty and earthen," mujaddara are Lebanese lentils. My experience with lentils doesn't go beyond soup and Indian curry so I took this on hoping to find another potential dish to add to my repertoire.
THE COOK
While not a difficult dish, I have to say this took a lot of time.
The prep itself is very easy. It's really just rinsing some lentils and cutting onions. After that's done, just wipe away the tears get to cookin'.
The lentils call for occasional stirring and you have to monitor the water level. Similarly, the caramelized onions require constant attention in order to prevent yourself from ending up with a crispy, burned mess.
To truly caramelize the sugar inside of an onion, it takes time and patience. Do it too fast and you've got sauteed onions, not caramelized ones. That being said, if you put in the work, caramelized onions are one of the greatest things ever!
I ended up pulling up a stool next to the fridge and sitting in front of the stove, hovering over a pot and a pan.
As a fan of the Harry Potter series — the books and the movies — I amused myself during this monotonous babysitting by mentally yelling "CONSTANT VIGILANCE!" à la Mad-Eye Moody.
For me, this was the culinary equivalent of manual labor. By no means complicated but laborious nonetheless.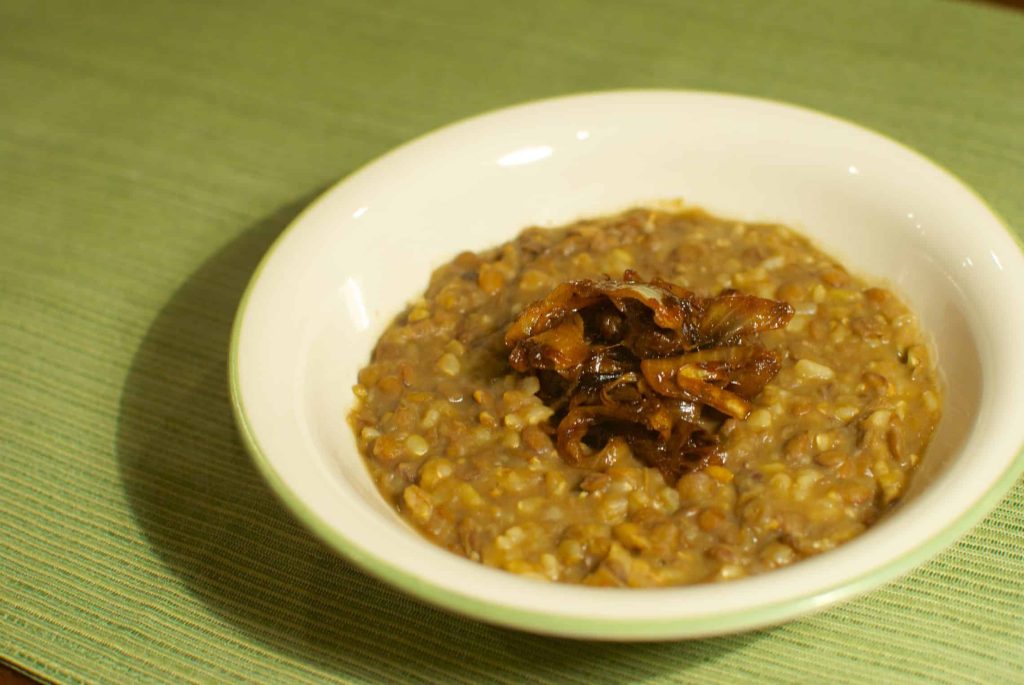 THE TASTE
First, I went for just the lentils and rice. True to the description, nutty and earthen came to mind. The taste was reminiscent of baked beans and it had a porridge-like texture with all the starch from the lentils. But despite the long, slow cook, I was disappointed that I didn't find much depth of flavor.
The caramelized onions were a game-changer — because, who doesn't love caramelized onions? Sweet and savory at the same time, the onions added a complex flavor to an otherwise plain dish.
THE VERDICT
While not my cup of tea, I can see how a dish like this has its place. With today's food being so over-seasoned and over-salted, a simple and hearty meal like this would do a body good. Anyone who is trying to watch their sodium intake, should try this recipe out.
One new method I will be trying again is the recipe for the caramelized onions. I've definitely used more oil (and butter!) when I caramelized onions in the past. Truth: I actually had to fight the urge to add a nice knob of butter during the cook. But I must admit that even though I used very little oil, no butter and deglazed with just water, the onions were still delicious. Yeah, it requires some patience but in the end you get a tasty accoutrement that can be added to almost any dish.
---
Click to read Jason's other "Vegan-ish" articles:
The original recipe for Mujaddara is in Life & Health's plant-based cookbook, From Plate to Plate, which can be purchased here.