Nuts are a great gateway into plant-based foods for meat-eaters who crave protein. Almonds are an excellent source of fiber, protein, fat and vitamin E. Products like almond butter and almond milk have become increasingly popular, but they definitely come with a hefty price tag. Let's see if making it at home is as simple as the recipe boasts.
THE COOK
Roast almonds. Check. Dash of salt and splash of agave nectar. Check. That is pretty much all it takes. Throw it all in a food processor and watch it turn from powder to paste.
This was actually a really fun item to prepare. It's mesmerizing to see the almond slowly but surely grind down into a creamy treat the whole family could enjoy. I was a little worried my mini-food processor wouldn't be able to handle the prolonged use, but it performed admirably and at the end of it all I had a warm batch of spreadable almond butter.
It does require a bit of attention to make sure that pockets of almond dust don't escape the whirring blades. But just like the recipe says, the hardest thing about making this will be cleaning up afterwards, as there will be sticky and oily bits of almond in every nook and cranny of your food processor..
Since my food processor isn't very large, it ended up doing my almond butter in batches. The recipe calls for an immediate transfer from oven to food processor — resulting in a satisfying sizzle when I added the agave nectar — but my second batch still turned out great even though it had cooled off a bit.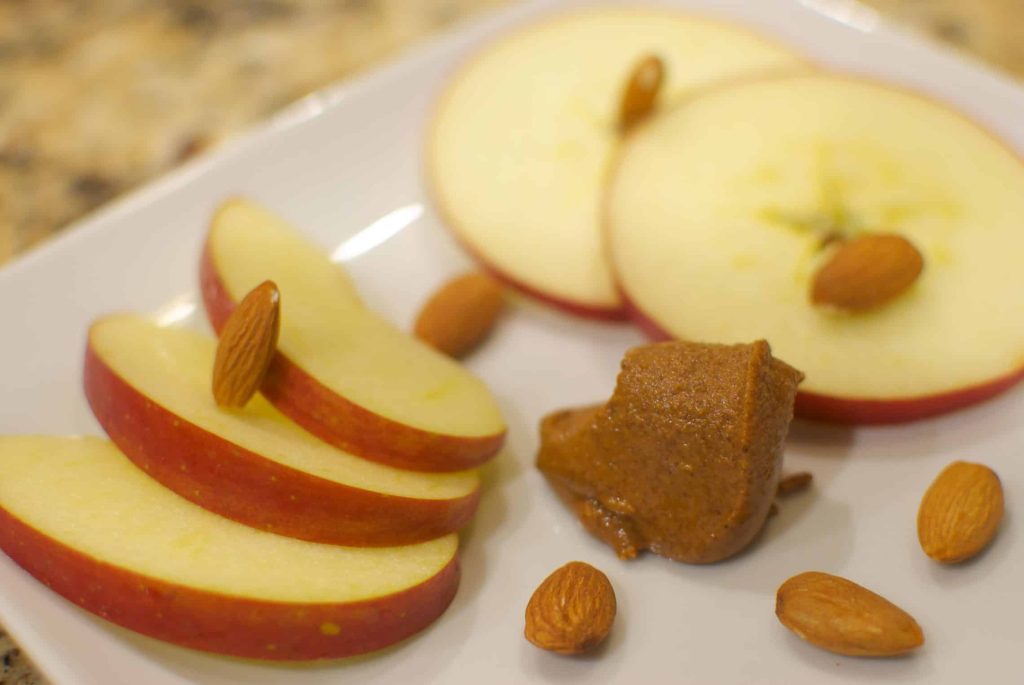 THE TASTE
The roasted and nutty flavor of the almonds is incredibly satisfying. I love pairing almond butter with fruit, so I elected to eat it with some apples. The almond butter still had some residual warmth from being so recently roasted, which was a pleasant touch. But it's just as good straight out of the fridge.
The nice thing about making your own almond butter is that you can really get it to the texture that you prefer. From chunky to smooth and everything in between, just stop when it's to your liking!
THE VERDICT
Dust to dough to delicious. It's that easy and incredibly tasty. It's still not cheap, as raw almonds tend to be quite expensive, but I was pretty happy with the yield that I got from my batch of almonds. You could use it on anything from toast or waffles to fruits and veggies. And c'mon, how impressive is it to be able to say you make your own almond butter?
There is some "almond-shaming" going around in California because of the incredibly large amounts of water necessary to grow a crop of almonds, but everything in moderation, right?
All-in-all this dish is an A+ and definitely a new go-to for me and my family.
FINAL THOUGHTS
So there we have it. Ten vegan dishes in ten(ish) weeks. Having gone through this cooking experiment, two things really stuck out to me.
First off, making good vegan food is actually quite simple. We're predisposed into thinking a lot of kitchen magic has to happen in order to make vegan food tasty, but that's just not the case. Sure, there are some dishes that may call for some specialty ingredients. Who could forget about McKay's Chicken Style Instant Broth and Seasoning? But most of these recipes are deceivingly simple and incredibly tasty.
I actually liken vegan cooking to Italian or Japanese cuisine, where only a few ingredients are used and the goal is to enhance those flavors in a way that defies their simplicity. Anyone can do it, and everyone should try it.
The second thing I learned is that cooking vegan food can be cheap. Relative to meat, processed foods and eating out, pound-for-pound, fruits and veggies are a steal — even at Whole Foods! Sure, there are expensive items, like the aforementioned almonds, but there are also tons of other more affordable options! There's this impression that healthy eating is for the rich, but that's just not the case.
So whether you want to switch full-time to a plant-based diet or just want to start incorporating healthier foods into your daily routine, it's really just a matter of committing yourself to figuring out what you like and what works for you.
I hope you've all enjoyed reading about my foray into vegan cooking and are inspired to try it out for yourself. As for me, I can't say I've been converted from my meat eating ways, but I've definitely grown to appreciate plant-based dishes and from now on, I'm going to make sure some of my meals are vegan … ish.
Happy eating!
Special thanks to Danny Kwon and his associates at Life and Health Network for giving me the opportunity to share and write about my journey.
To Sarah Jung for your helpful edits, your enthusiastic promotion of the series and your frenetic, nervous and constant hope that I would like the food.
And to my wife/counselor/sous chef/best friend, Mary, for helping me with every part of this project and providing me with more support than conceivably possible.
---
Click to read Jason's other "Vegan-ish" articles:
The original recipe for Roasted Almond Butter is in Life & Health's plant-based cookbook, From Plate to Plate, which can be purchased here.