With a jam-packed week, I needed something quick and easy to make. As I poked through the pages of From Plant to Plate, I stumbled across this simple recipe for roasted butternut squash. I never really partook of butternut squash growing up, but I've come to enjoy the sweet and starchy flavor of this interesting fruit.
THE COOK
I cheated a little this week by purchasing a bag of pre-cut butternut squash. I actually had the gigantic squash in my hands at the market but ended up ditching it after I walked past some conveniently prepared packages. If you do purchase a whole butternut squash, practice caution when cutting. It's not the easiest thing to slice through and misapplied force can lead to scary accidents.
The only other required ingredient is sage, which I purchased fresh from the market. My first experience with sage was eating some lightly fried as an accompaniment to a ravioli dish, so the smell always takes me back to that. It has a fragrant and distinct flavor that should pair great with the butternut squash.
All it took was a toss with some olive oil and salt and it was ready for the oven. See? Easy!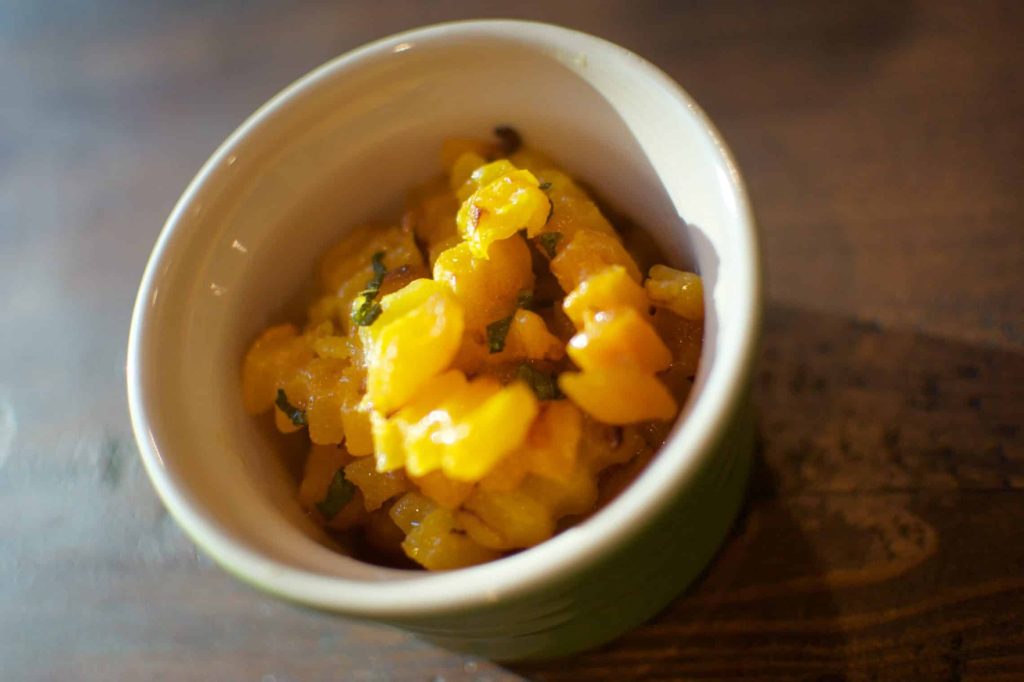 THE TASTE
The first thing to hit your nose and your tastebuds is the sage. The fresh and bright flavor is quickly followed by the simultaneously savory and sweet butternut squash. It's a pleasant combination and having such a simple preparation really allows the squash to shine.
Since my pre-cut squash was sliced a bit on the thin side, it cooked faster than I expected and ended up softer than I would have preferred. It wasn't mashing under my fork, but it was definitely on its way there. Still, I really liked whenever I would get a bit of a crispy corner and could taste that roasted flavor.
THE VERDICT
This is as easy as a side dish gets. You're definitely not going to eat this alone and would do well it pair it with something else. This would actually be a great addition to the roasted beet salad we prepared in week 3, although I probably wouldn't use both tarragon and sage for the resulting dish.
If you're looking for a nice accompaniment to a main dish, it can't get any simpler than this one. And it's actually just as good at room temperature or even cold, which makes it a great addition to any lunch on-the-go.
This is less of a dish and more of a tutorial on a useful cooking method. I say this because in reality, this recipe could be applied to almost any vegetable. Just as they do with meat, olive oil, salt and some herbs are all it takes to bring out some great flavors in fruits and vegetables. So if you, your friends or your kids tend to shy away from eating healthy, consider applying this preparation to make eating your veggies a far more pleasant experience!
---
Click to read Jason's other "Vegan-ish" articles:
The original recipe for Roasted Butternut Squash & Sage is in Life & Health's plant-based cookbook, From Plate to Plate, which can be purchased here.