I love making mashed potatoes. Whenever I'm assigned this tasty side for Thanksgiving dinner, I make sure I have three things: cream, butter and cheese.
Today's recipe calls for none of those things. Be still, my beating heart.
THE COOK
My favorite way to roast garlic is to slice a head of garlic in half, add some olive oil, wrap it up in aluminum foil, and toss it in the oven until the cloves can slide happily out. Coincidentally, this is exactly what this recipe calls for. And cooking in a kitchen that starts to fill with the delicious smell of roasting garlic has a happiness quotient right there with using a towel straight out of the dryer and catching a wave of green lights.
While your garlic is going, all you have to do is mash some white beans and boil some cut up potatoes. Once the potatoes and garlic are cooked, it's time to mash. I like using a good ol' hand masher for this. You can get a rustic chunky texture if you want or you can add some elbow grease and get it nice and creamy. Plus, pulverizing something can be a stress reliever.
THE TASTE
I whipped my potatoes pretty good so the resulting texture was very smooth. A lot of the dairy ingredients that we typically add to mashed potatoes serve to provide a creamy texture. The beans did an amazing job creating a silky and satisfying mouth feel. I was a little worried that the bean to potato ratio skewed a bit too much towards bean, as the color of the dish was a bit more tan than I expected. But in the end it definitely felt like a mashed potato.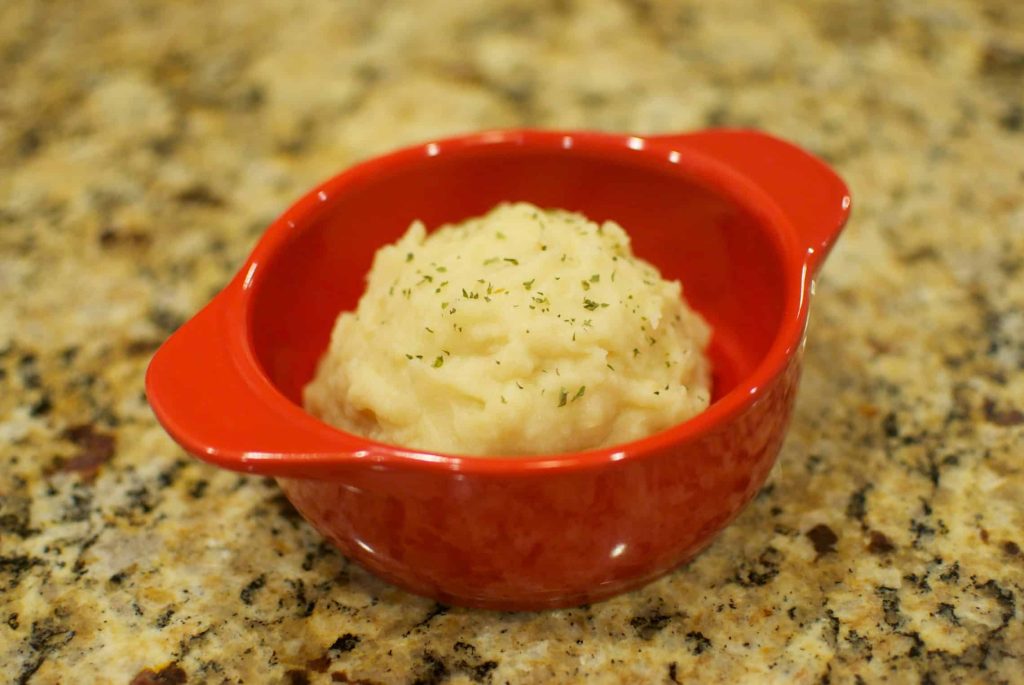 What about taste, you ask? In a word: delicious.
I commented to my wife while cooking this that I suspected the addition of the mashed cannellini beans was probably just for texture, not taste. And while the beans absolutely provide a big boost on the texture front, they also serve as a substitute for the fattiness that you'd get from things like cream and butter.
There was definitely no cheesy taste, but not all mashed potatoes are cheesy. This one just happens to be more in the garlic vein. And the garlic does hit you, as garlic tends to do. An aptly titled dish, if you ask me.
THE VERDICT
This is my favorite recipe so far and it is also probably as guilt-free as mashed potatoes are going to get. I added essentially no fat to this dish, aside from the small amount of olive oil used to cook the garlic. If you've got vegan guests coming over for dinner, this is the perfect side for them — and to be honest, for all your other guests as well.
Personally, on Thanksgiving Day I'll probably always want my cream, butter and cheese. But any other time of the year, I'd happily make the switch to this garlicky pile of whipped goodness. Try it!
---
Click to read Jason's other "Vegan-ish" articles:
The original recipe for Garlicky Potato & White Bean Mash is in Life & Health's plant-based cookbook, From Plate to Plate, which can be purchased here.