My wife and I have been making a concerted effort the past few years to bring our own lunch to work instead of eating out. Always looking for a good accompaniment to a sandwich or a salad, we found that soup is a great way to go.
I had success in Week 1 with the Italian white bean soup so I thought this would be a great recipe to try. Also, I've gone seven weeks without kale making an appearance. Correct me if I'm wrong hipsters, but I'm pretty sure kale is on the vegan coat of arms, so I better remedy this.
THE COOK
Two food items I dislike prepping but love cooking are onions and garlic. Ironically, this love/hate relationship stems from a single reason: the smell. In the end, the sacrifice of onion and garlic scented fingers is well worth the payoff once you get them going on the stove and the aroma of sauteed aromatics fills the air.
For this dish, it's just a matter of prepping a few more veggies and throwing it all in a pot to simmer.
The recipe calls for a "bunch" of kale — chopped with ribs removed. This nondescript direction is essentially saying "as much as you want," but having never made the dish before I wasn't sure what an appropriate amount would be. After all was said and done, I was searching for more! So a word to the wise, make your bunch, a bunch.
THE TASTE
The flavor is reminiscent of a minestrone sans pasta. Without adding any sugar, this soup has a pleasant sweet note from the carrots and tomatoes. At the same time, the earthy flavor from the sauteed onions and garlic and the slight bitterness from the kale give the soup a real sense of balance.
I love having the white beans as they not only make the soup significantly more substantial, they act as a thickening agent, giving the soup an almost stew-like quality.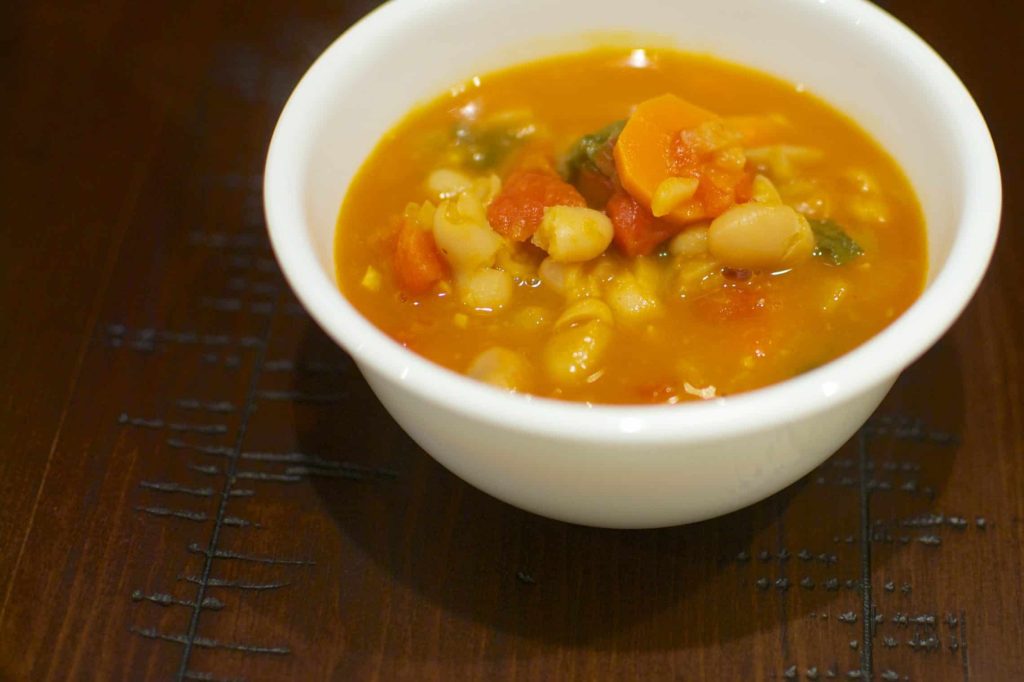 Another thing I really enjoyed about this soup is that it was really hearty and filling, but it also had such a clean texture and finish. I didn't feel weighed down at all, even after seconds!
THE VERDICT
What is really great about this soup is that it is actually pretty versatile. You could really mix and match any vegetable to throw in here and it would be great. Don't like kale? Use a leek. Anti-carrot? Go for celery. The same goes for the beans. And, as soup is wont to do, the flavor gets even better the next day after all the ingredients really have had time to sit together.
This soup would go perfectly with a grilled panini or a good hunk of crusty bread. And if you have the time, you could take it a step further and use a homemade vegetable stock, instead of using store-bought as directed.
This is another dish that wouldn't require any particular modification for us meat-eaters. But for any finicky or skeptical readers out there, fear not, it could be a perfect side for something like a chicken-pesto sandwich or grilled cheese. Baby steps, people. Baby steps.
---
Click to read Jason's other "Vegan-ish" articles:
The original recipe for Kale & White Bean Soup is in Life & Health's plant-based cookbook, From Plate to Plate, which can be purchased here.