I don't know how much autumn you've seen in your corner of the world, but the leaves just started turning color here in Northern California.
You know how autumn breezes shake the leaves loose and they float across the road as you drive? Yeah, that started happening this week and it's very exciting. It's probably actually cold wherever you are in the world, but we Californians tend to get a little overexcited about a slight drizzle and peek of orangey leaves. We bundle up in scarves and windproof jackets, pull out our flannel jammies, hold very serious discussions about favorite cold-weather recipes—the whole nine yards.
So, turtlenecked and wool-socked, I'm happy to present this week's Weekly Roundup of delicious plant-based recipes with a little list of comforting, autumnal recipes—all without meat or dairy and perfect for a cloudy evening indoors.
Fall flavors from Life & Health…
Baked Chai Apple Crisps – Your entire house will smell like fall. Plus you'll have a snack at the end of it all. Enough said.
Sweet Potato Pierogies – We love this healthy twist on the popular European dumpling.
Creamy Mushroom Stroganoff — Many Russian, East European, German dishes are meat and cream heavy, and thus rather difficult to make vegan. But using cashews and multiple varieties of mushrooms, this recipe extracts all of the comfort and heartiness found in a meat stroganoff and replaces it here.
Masala-Spiced Chickpeas & Cauliflower — Did you know that cauliflower tastes best in the autumn? Warm up with this protein-packed dish and a side of fragrant basmati rice.
Quinoa & Sweet Potato Chili — This chili is loaded with flavor and vitamins, and everyone in the family might ask for a second bowl. The best part? You'll only have to wash one pot.
More brisk-weather eats from around the web: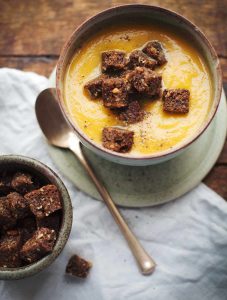 Butternut Squash, Apple & Leek Soup by My New Roots: "It is a deep and delicious love song to autumn. The ingredients are inexpensive, widely available and the process is foolproof. It's an oven soup! That's right: everything cooked together right on a baking sheet so there isn't even a pot to wash. Me likey."
Vegan Fall Harvest Sandwich by Blissful Basil: "This vegan fall harvest sandwich has all sorts of festive goodness snuggled between thick slices of sourdough. A Dr. Praeger's Kale Veggie Burger is topped with roasted sweet potatoes, vegan chèvre, and cranberry-pear compote. The finishing touch? A handful of peppery arugula."
Whole Roasted Sicilian Cauliflower by The Colorful Kitchen: "…perfectly cooked cauliflower that's melt-in-your mouth soft on the inside and nice and crispy on the outside."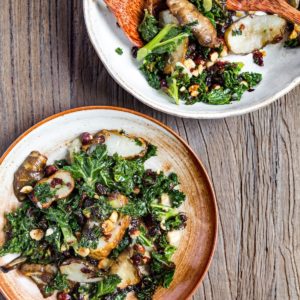 Roasted Jerusalem Artichoke, Hazelnut & Kale Salad by Deliciously Ella: "The earthiness of the roasted artichokes go so nicely with the crunchy, crispy kale, roasted hazelnuts and sweet raisins in this salad, all the flavours really compliment each other and bring the whole dish together. It's lovely to serve on its own but also delicious served as a side, plus the leftovers make a perfect work lunch the next day!"
Warm Roasted Butternut Squash Salad by Minimalist Baker: "A warm salad made with roasted butternut squash, cranberries, spinach and candied pecans. Healthy, filling and a perfect take-along lunch or side at fall and holiday gatherings."