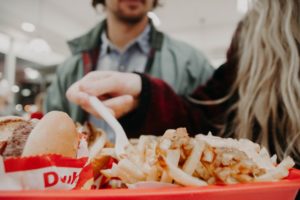 Ah, comfort food. Who doesn't have a love/hate relationship with it? For me on a bad day, I find myself craving the perfect storm of fries, pizza, and ice cream. What I don't realize as I'm dipping my fry into my ice cream is that I might experience an emotional low afterward that's even worse than how I felt at the beginning. Actually, I've noticed that when I have fresh fruits and vegetables, I'm much more vibrant and happy and ready to accomplish the tasks throughout my day.
That brings up the question: Can the food we eat have a drastic impact on our emotional health? More specifically, can a plant-based, vegan diet reverse symptoms of depression and improve emotional health?
There have been many studies done regarding the influence of diet on emotional health. For example, in January 2017, an issue of the medical journal BioMed Central (BMC) Medicine reported that a team of researchers led by Felice Jacka, an epidemiologist at Deakin University in Australia, studied the effect that diet had on the moods of individuals with major depression. The study had two groups: the initial group received counseling from a dietician and the second group received counseling from a positive social support caregiver.
The results indicated that those who ate a healthy diet were emotionally happier than those who received social support. Also shown was that an unhealthy diet high in processed and refined foods increased the risk for not only depression but other diseases as well. There have been many other studies revolving around this topic that support this research.
Nutritional psychiatry
"Nutritional psychiatry" is a recent development in the medical world, but it's a rapidly growing research field. Understanding the effects that diet has on mental health is incredibly important – especially now – because there are so many chronic diseases that have become more prevalent because of the highly processed foods consumed by society.
Dr. Jacka is the co-founder of the International Society for Nutritional Psychiatry Research that aims to expand the field by using a multi-disciplinary approach to research connecting emotional and physical health on a new level. The Food and Mood Center was created by Dr. Jacka as a center for studies on how diet influences mental health. Because of the new studies that have been addressed, the American Psychiatric Association has begun to include presentations on nutritional psychiatry at their annual conferences.
Even though diet isn't the only factor influencing mental health, researchers have found another way to prevent and treat depression. What is it? You guessed it, eating a plant-based diet. A plant-based diet doesn't only promote good physical health, but it also shows promise in promoting emotional health and well-being. I think we can safely say that fruits and veggies should be the "happy food" to turn to when we're having a bad day.
Here's a recipe for a fruit smoothie from Nutriliving that is packed with fresh nutrition and will give you a bright boost to your day. Have a happy and healthy day!
Ingredients
¼ cup blueberries
1 banana
5 walnuts
½ cup oats
1 ½ cups unsweetened almond milk
Instructions
Add all ingredients to your blender and blend for 30 seconds, or until smooth.
Enjoy!