Ever since I can remember, I spent many hours in the garden helping my parents till soil and plant seeds. As I grew older, I understood and became familiar with different gardening techniques; soon, I realized that each plant would thrive with different requirements. For example, for optimal growth and yield, tomato seeds had to be planted at different depths and distances compared to watermelon seeds.
Lessons learned from gardening
First, I realized that giving a little effort, time, and consideration to each plant's nutrient needs yields a bountiful harvest. My siblings and I would water the seeds and watch them grow at each stage of development. When harvest came, we would spend hours picking pounds of tomatoes, zucchinis, squash, eggplants, potatoes, watermelon, chili peppers, bell peppers, potatoes, and so many others. I remember myself and each of my siblings choosing one row of tomato plants to harvest. It would take us at least two days to fully harvest all the ripe tomatoes. The produce that we didn't eat fresh, we would can and put them into storage to be eaten during the offseason.
By selling some of the fruits and vegetables we grew, I also learned about the industry and responsibility involved in gardening. Not only that, learning how to grow my own food gave me a positive and exciting view of my plant-based diet and influenced my long-term health, even today.
These simple lessons learned from working in the garden, harvesting and eating the vegetables that we grew, can be applied to our everyday lifestyle. Just as plants have specific nutrient requirements, our bodies also have nutrient requirements that we need to consider. As parents, teachers, and healthcare providers, we need to make sure that our children are consuming the nutrients they need to thrive and live a healthy life. Habits and lifestyle practices are learned at a very young age. Therefore, it is crucial to begin guiding our children through a healthy lifestyle.
How you can incorporate gardening into your lifestyle
When we grow our own vegetables and fruits, they are at their peak in nutrient-density and freshness when we eat them. You don't need acres upon acres of fertile land to be able to be a gardener that grows your own veggies. If you have a sunny window, a decking, a patio, or a community garden, you can grow your own fresh produce. Remember, when planting a vegetable garden, plant an assortment of produce to reach a wide range of nutrients.
Studies show that gardening can promote health and a positive mood. "Happy hormones," or endorphins, are enhanced when the time is spent outdoors. Whenever I feel stressed, I head outdoors to soak up my daily dose of vitamin D. Gardening fosters an active lifestyle that can enhance cardiovascular health, build muscle strength, and increase flexibility.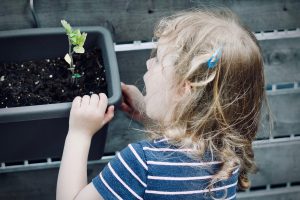 Another fascinating point is that studies indicate that when children grow their own vegetables and fruit, they have a higher likelihood to eat the "fruits of their labor." So, for those "picky eaters" at home, gardening may be the secret to encouraging children to eat more fruits and vegetables. What could be more exciting to a child than eating something they grew over time with their own hands?
There are so many nutritional benefits that are received from fruits and veggies when consumed. They should at the least make up half of our lunch and dinner meals. We need to create an environment that promotes healthy living. Let us start teaching our children to be industrious. Gardening does not only bring growth for the seed of a plant, but it also brings growth for our children. Children flourish with good care.
Determine how much land—either actual land or soil in pots—you have available for your garden, and prepare it appropriately for your plants.
Start small—choose three to five veggies or fruits you most want to grow yourself—and get them ready to plant in your garden.
Be consistent in caring for your plants—which includes watering, weeding, feeding, and keeping out the garden pests.