Do you remember how you felt on your first day of school? The butterflies in your stomach? Spending hours the night before, picking out the just-right outfit? Feeling excited to see your friends?
Having been out of school for quite some time now, it had been a long time since I felt that way. But here I was, butterflies fluttering in my stomach at the opportunity to be a guest in the kitchen of one of my favorite establishments, Zest Kitchen. Just like I had in middle school, I spent a lot of thought into my outfit. It needed to be comfortable to move around in a working kitchen, but professional enough for a good first impression. The people at Zest Kitchen could become good friends since we were already kindred spirits in our passion for delicious, whole, plant foods.
Eight hours later, as I drove home from this incredible experience, the beauty of this day slowly began to sink in. I'd like to share three of my favorite things about this whole foods, plant-based restaurant.
Beauty
To me, Zest Kitchen epitomized beauty. At 7 o'clock on a Thursday morning, I walked into the kitchen of Zest in Rocklin, California. Genuine smiles and neatly wrapped hairnets and aprons greeted me. I put up my hair and tied on my apron, and Angelique, the modelesque owner and visionary of Zest, asked me if I'd like to do some chopping. On the large workspace in front of me, there were piles of brightly colored vegetables on cutting boards and in colanders and bowls. It was a gorgeous rainbow of fresh plants. Two staff members were already chopping up red bell peppers and purple onions. Beautiful, plump, red tomatoes waited for me.
Yes, I'd love to chop!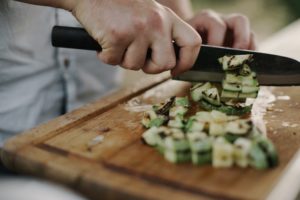 Taylor, a young line cook, showed me where to find a clean knife and cutting board and I went to work. When my supply of tomatoes ran low, I was told I could find more in the walk-in fridge. More rainbows! The fridge, the kitchen, and the dining area of the restaurant – they were all a kaleidoscope of color and freshness. Sunshine streamed in the back door, gentle conversation floated between the staff, and life-giving plants were being transformed into bite-sized pieces. Beauty was thriving all around us. I found myself smiling as, with every chop of my knife, my mind kept repeating, wow, this place is absolutely beautiful.
Simplicity
Zest Kitchen was busy, but it was also peaceful and simple. A task list was attached to a clipboard that sat on the vegetable prep table. Every staff member had a task to do, which they carried out and moved on to the next task. Knives, cutting boards, bowls, pans, cutlery, and more, were well-organized and waiting to be used. Dry food supplies lined the wall on floor-to-ceiling shelves. Perishable fruits, vegetables, sauces, non-dairy cheese, and teas were stacked neatly in boxes and clear containers in the refrigerators. The prep station, smoothie station, cooking station, assembling "bus," wash station, and refrigerators, all had their places in the kitchen and were stocked with the tools and foods needed for each. The only machines I noticed were blenders, for the smoothies and sauces. Everything was done in a simple and loving manner, and all by hand. It was quiet except for the hum of the refrigerators, chatter among the staff, and the sound of knives chopping.
The ingredients for each meal started from a whole plant – the simplest start of the food chain that also happens to contain incomparable nutritional value. The vegetables weren't manipulated much, except to cut them into bite-sized pieces and combine them in delicious ways. I was witnessing Zest Kitchen master simplicity at a level that not many restaurants attain.
So, so delicious 
This is the best part. The food at Zest Kitchen is delicious! Before I knew it, it was after 10 in the morning and customers were picking up their fresh lunches on their way to work. Breakfast customers had come and gone. And despite the bustle, the prep work in the kitchen was continuing on in its beautiful, simple way, in preparation for the lunch rush.
There was a box of clean spoons in the kitchen that grabbed my attention. I'd noticed that the head cook would grab a spoon, drunk it into whatever dish she was preparing, taste it, then toss the spoon into a box of dirty spoons to be washed and reused. I learned that, if I stayed in her vicinity while she was tasting a dish, she'd wordlessly pull out an extra spoon, dip it into the dish, and hand the spoon over to me. I have a big, big love for vegetables, fruits, beans, seeds, nuts, and grains, and the food on these spoons was made up of all of my favorite things. The simplest combinations the cook made with added herbs and seasonings were incredible!
It came time for staff members to place orders for their own lunch. I was chopping onions when Angelique asked me if I'd like to take a break and enjoy a complimentary meal.
Yes, please!
The thing is, I wanted everything. In the end, I settled on the chipotle chickpea tacos and sat down at a table in the dining room as the kitchen staff prepared my tacos. As I waited for the food, I felt so blessed to be a part of the whole foods, plant-based lifestyle and this little restaurant community in Rocklin that cares so much about every aspect of the food they create.
---
Zest Kitchen is a fresh, organic, and all-natural plant-based restaurant in Rocklin, California that creates hand-prepared and naturally gluten-free food.