Tofu's been around for a long time; actually, it's been around for over two thousand years. It's been a dietary staple in many Asian countries because of the wide availability of soybeans, which tofu is made of, and is growing more popular in the west. Multiple theories exist about the origin of tofu, one of which dates its origin to the Han dynasty, but consensus points to ancient China as the place where tofu was first made.
Tofu 101
Tofu is widely available at grocery stores and served at many restaurants but some are unaware of this power-packed food, perhaps because at first glance, it's just a solid white brick. Actually, tofu comes in varying consistency, from "silken" to extra firm. Firmness variation allows tofu to be used in multiple dishes as a plant-based replacement for milk, eggs, other dairy products, and even meat itself.
The softest tofu varieties can be described as "silky" and are used in numerous desserts as a replacement for eggs. When I first became vegan, I wondered if I'd be able to eat desserts like pumpkin pie or cheesecake ever again. Thanks to soft tofu, my amazing mother and sisters mastered some truly amazing pies and even won first place in a pie contest with – get this – a vegan pie!
Soft tofu was something that we personally needed some trial and error to perfect for cooking use, but firm tofu was the first and easiest variety to use for cooking. We started out by cooking tofu like people had been preparing it for years – cubed and lightly fried. Stir-fried tofu with vegetables and rice was an instant hit. Next time you get a chance, try firm tofu mixed with other foods and you'll see what I mean.
Tofu eggs, tofu cheese, and more!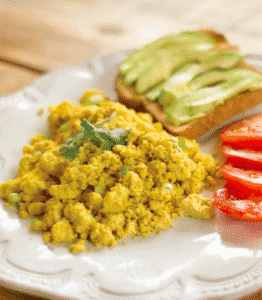 Now, my family never really ate eggs for breakfast, but we decided to try "tofu scrambles" as a novel breakfast entrée and it's been a staple in my family ever since. Getting the flavor right was the first step, but when the flavor was just right the next issue was the color. Eggs are supposed to have some yellow in them, right? Well, turmeric powder is healthy, plant-based, and bright orange-yellow. When you add a sprinkle of turmeric powder to white tofu, the tofu turns a soft yellow just like scrambled eggs. The added benefit is that turmeric is high in potassium and various vitamins that are incredibly good for your health.
Once you get the hang of preparing tofu, it'll become a versatile food for your everyday menu. Grilled tofu and vegetable kebabs, tofu-egg salad sandwiches, Asian stir-fried tofu, tofu curries, spicy buffalo wing tofu – and that's just to name a few. A favorite cuisine of mine is Italian food but lasagna without cheese doesn't sound all that great to me. Well, you can crumble tofu into small chunks and make it into the lasagna's ricotta filling. There are actually so many tofu-based variations of favorite cheese, even feta, and mozzarella!
For more recipes like these, check Life & Health's plant-based cookbooks From Plant to Plate and From Plant to Plate: Diabetes Edition, or the Life & Health "Food" tab for quick, simple, plant-based recipes, many of which use tofu!
Why should you eat tofu?
For those with lactose sensitivity, replacing dairy with tofu can improve your gut health. Dairy products such as cheese, milk, butter, and ice cream contain high levels of fat and can contain cholesterol. Substituting tofu in place of dairy will lower your fat intake and reduce your cholesterol – because tofu doesn't have any cholesterol. Eggs are a cholesterol-rich food that those with high cholesterol try to avoid, so tofu-eggs are the perfect replacement for breakfast fare.
Published research has warned us about the carcinogenic risk related to consuming processed meats, especially relating to the added risk of colorectal cancers. The American Cancer Society indicates that consumption of 50 grams of processed meat daily will equate to an 18% higher risk of colorectal cancer. Well, that risk can be lowered by eating tofu in place of processed meats. Firm tofu can take the place of highly processed sandwich meats, grilled meats, fish, and chicken.
But meat is where we get protein, right? Tofu is actually packed with protein and is a perfect meat replacement for a healthy diet. Those who advocate for a plant-based diet always recommend tofu as the best protein source for a healthy, plant-based diet.
The next time you're looking for a protein-filled meal, try one of Life & Health's tofu recipes: