I began writing with the idea to write a blog about summer recipes. Then, I realized that Father's Day (June 17) is a few days ahead of the first day of summer (June 21). And then with that, I realized that I'd been hearing a lot of people say that they don't do much on Father's Day. Be it a short phone call, a Facebook or Instagram post that our dads might never see, or maybe a handwritten card, it seems that dads don't really get much of the sweetness and bustle that Mother's Day is characterized by.
I'll be honest – this broke my heart a little for the dads out there.
The dads who faithfully worked a lifetime at a not so enjoyable job in order to provide for us. The dads that fixed and restored the broken things at home – without a word – so that home was always home to us. The dads that rarely say, "I love you" but have hearts bursting with pride and joy to call us their son or daughter. My dad, who couldn't leave a room without giving my sister and I a tight hug first.
Dads are special, too. And don't we cook for the special people in our lives?
Let me tell you a little story. The year before I got married, I took to making dinner for my dad. I called him my "guinea pig" and practiced making various recipes that I would later cook for my husband. My dad loved it. He loved watching me maneuver around the kitchen just like my mom. He loved seeing how I had picked up recipes and ideas from the places I'd visited in the world. He loved seeing that I – his child that he had cared for from birth – could now make a meal for him. For me, I knew that these were the memories of my dad that I would cherish the most for the rest of my life.
I never realized how meaningful it would be to cook a meal for my dad as an adult. There's something about cooking for the people you love that is so much better, so much more special than going out to eat or even getting an expensive gift. It's what we Koreans call 손맛 ("son-mat"), literally "the taste of your hands" and it refers to the "flavor" of love you put into your food.
So, if you're all out of ideas (or didn't have any just yet) for Father's Day, and you live close enough to your dad to do so, try cooking him a meal. It could be the best way to let him know you how much you love him.
Recipes from Life & Health…
Blueberry Oatmeal Pancakes – Try a classic breakfast in bed, Dad Edition. I'll bet he'll feel pretty awkward staring up at the ceiling from his bed while his grown child(ren) makes him pancakes, but hey, you gotta try it at least once.
Zesty Garlic Sweet Potato Fries – Or, if you're thinking a spring/summer picnic or backyard meal, these would make a perfect side.
Creamy Pasta Salad – The perfect accouterment to the aforementioned picnic/backyard meal.
Fresh Watermelon-Mango Salad – 'Tis the season to take advantage of beautiful, fresh fruits and this one puts a festive and even fresher spin on our favorites.
Vegetable Pot Pie – You could bring this impressive dish along on this idyllic picnic/backyard lunch I'm imagining, or bring it straight from the oven to the dinner table.
*All recipes are from Life & Health's plant-based cookbooks, From Plant to Plate and From Plant to Plate – Diabetes Edition. available for purchase from our online store.
Recipes from around the web…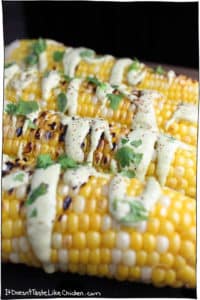 From It Doesn't Taste Like Chicken, Creamy Cilantro Corn on the Cob – "Corn on the cob is already fabulous when it's as simple as boiled, no salt, no vegan butter, nothing, just sweet delicious corn. But if you really want to wow your peeps, make some saucy goodness, sprinkle with pretty garnishes, and all of a sudden everyone will be oohing an aahing like you are a genius!"
From The Minimalist Baker, Smoky BBQ Black Bean Burger – "This burger is easy to make, requiring simple methods and 10 wholesome ingredients you likely have on hand right now."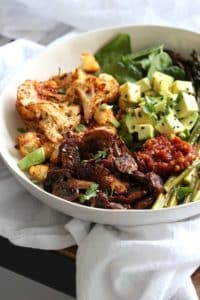 From Vegan Richa, Bulgogi Roasted Spring Veggie Bowl – "Cauliflower, mushrooms, asparagus, spring veggies, tossed in soy sauce and the bulgogi blend. Roasted and served over fresh or wilted spinach, with some avocado or cucumber and a dollop of Asian chile sauce. So much flavor! Make this into bibimbap with cooked rice (optionally stir-fried with a bit of gochujang or Asian chile sauce). Add some baked tofu for a higher protein hearty meal."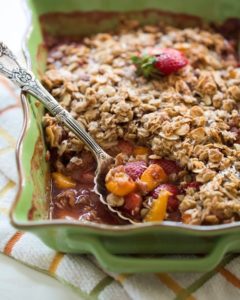 From Oh She Glows, Springtime Strawberry Lime Mango Crisp – "Fresh strawberries, buttery mango and tangy lime create a naturally sweet, gooey crisp with a crunchy almond-oat-coconut topping."
Happy Father's Day to all of the dearly loved and appreciated dads in the world! We love you!