Pharmaceutical sales representatives or "drug reps" have the job of visiting doctors' offices to discuss their new medications, improvements to medications, how they work, and insurance coverage of their company's medications. These drug reps schedule lunches for the office and give presentations during lunch breaks about new drugs that are intended to improve patient outcomes. Much of what drug reps share focus on medications for treatment, but some do speak about the value of screening for preventable diseases.
At the office where I worked, we had regular visits from these drug reps. As the office newcomer, I was introduced to the reps who probably knew the office staff much longer than I had.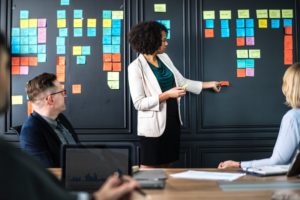 One week, I was told that the drug rep was providing lunch for a presentation and that I didn't need to bring lunch. I was thankful for his generosity but as a vegan, I was also a little worried about what he might bring for lunch. I was able to escape questioning in the first few lunches they'd brought, but I'm sure that some of the reps were beginning to notice my selective eating habits. I always targeted the veggie sandwiches when tuna, meatball, and turkey subs were also available, and when the lunch of the day was Mediterranean, I always opted for the pita bread with hummus, veggies, and falafel.
The menu wasn't always so accommodating, and on days when sushi or barbeque was served, I was always looking for something else to do outside of the lunchroom, making it obvious to the drug reps that I had a unique dietary preference. One by one, the drug reps began asking me if I was vegetarian if there were other things I didn't want to eat, and; most importantly, why. I explained to them my reasons for eating a plant-based diet. I explained that because of the health benefits of fruits, nuts, seeds, vegetables as my dietary staples, I felt healthier, more energetic, and had a clearer mind for work. I also mentioned that patients that came into our office also struggled with diet-related diseases, such as obesity, diabetes, and hypertension, and that by being an example of a person with diet as a priority, someone may decide to follow a healthier diet.
Then, one quiet Friday after the discussion about diet, a drug rep came to visit and brought the office staff fruit smoothies and plant-based juices from a popular local juice bar. The drinks were a success and the staff was thankful for the healthy snack. The staff responded so well that multiple drug reps began replacing the traditional donuts and coffee with healthy snacks like juices, smoothies, and plant-based sandwiches. Lunches also began to get a makeover with more fruits, veggies, and plant-based cuisines like Mediterranean food, vibrant salads, and even tofu egg sandwiches!
After months of eating like this, some of the office staff began to comment on how they were losing weight, eating better at home, and cooking healthy meals for their families. A group of them also often starting making plans to take walks, hike in the hills, and go on other active outings on the weekends. In the wintertime, many of the staff were happy to report that they had not caught the seasonal colds that patients were often exposing them to when they visited the office. Coffee, soda, and energy drinks became less prevalent because the staff seemed to have extra energy for the day. I also made sure to bring a case of water into the lunchroom for the staff.
The office's main physician had the most noticeable improvement. The stress of seeing patients at the local hospital's intensive care unit (ICU) and examining patients at the office had had its toll on the doctor. Unbeknownst to the office staff, his stress and poor diet had caused the doctor's blood pressure to rise. His family was worried about him and told him to try to be less stressed. Our office lunch revitalization turned out to be the perfect solution for him. He was more energetic as he visited with patients and seemed to be everywhere at once. He told the office staff that his blood pressure was now at a healthy level and he credited it in part to our healthier mindset in the office. I like to imagine that his newfound health also motivated him to share a little bit more about disease prevention through diet.